What is digital signage?
Digital Signage is an advanced technology helping organisations' to display digital content using a digital medium such as a display screen, projector, touch screen and even Augment Reality. The popularity of using digital screens is growing every day, and today they are everywhere in shops, restaurants, and hotels, at bus stops, airports, and stadiums, and beaming from the front and sides of prominent buildings. Digital Signage's popularity uses cloud-based software, which makes it possible to access the main central dashboard and content from anywhere in the world. By connecting multiple screens on a network or via the Internet, a business is able to manage and remotely control a sizable screen network. At Advertise Me, we provide digital signage services which explore a practically revolutionised visual display technology.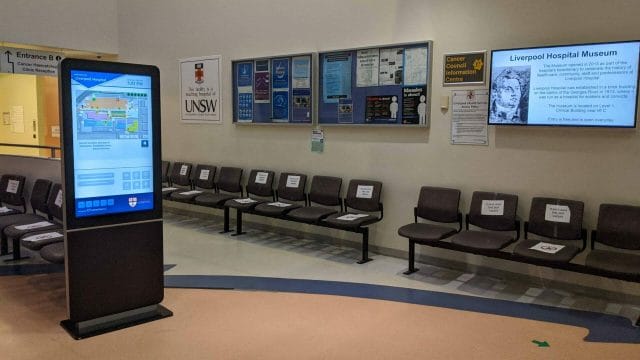 Benefits of digital signage
The main purpose of digital signage is to display information to the audience, with the intent of advertising and promoting the services or products.  Digital Signage is more than just displaying content on a screen, as its focus is to effectively design effective content that will interactively engage the customers. At Advertise Me, we use the latest technologies and digital trends to show businesses the possibilities of Digital Signage and how it can help achieve business goals. Some of the benefits of using digital signage are:
Improving workplace communications and productivity
Digital signage is a ground-breaking form of communication that uses electronic screens to present clear messages to the public and staff concisely and reliably. Keeping up with the pace of the rapid technological development, digital signage has also evolved drastically into a popular communication method that is needed in every public space. Visual display technology is a smarter, beneficial, and an influential feature that is being adopted by every sector and businesses
Attracting customers' attention
The key goal of every organisation is to grab customers' attention at various video screen displays on the walls. Making customers look at video screens on the walls for a long time, will eventually get them to read the content being displayed.
Easy accessibility of organisations' content
At Advertise Me, we can set up large video walls which basically means connecting multiple screens on the wall, typically 4 screens in a row or a 2 by 2 screen. The screens are connected to a digital signage player that runs display signage software playing the digital content back. The video setup is done in such a way that the content is fresh and the latest content. To ensure easy accessibility, the digital screens are strategically located, mostly at the main entrances which can be viewed and seen  by anyone who walks into the building
Influencing customers purchasing decisions
Every business needs to be in a position to attract customers' attention and be able to influence their purchasing decision. Digital signage is the tool you need to effectively communicate and pass information to the customers using visual technology. At Advertise Me, our digital signage technology has been very instrumental in influencing the customers' purchasing decisions and by making the organisation stand out in the competitive market that we are living in.
Advertising and marketing products and services offered by an organisation
Digital signage provides dynamic information to customers by displaying interactive and engaging content.  The visuals displayed on the screens are persuasive and informative thus serving as a great avenue for marketing and advertising products and services.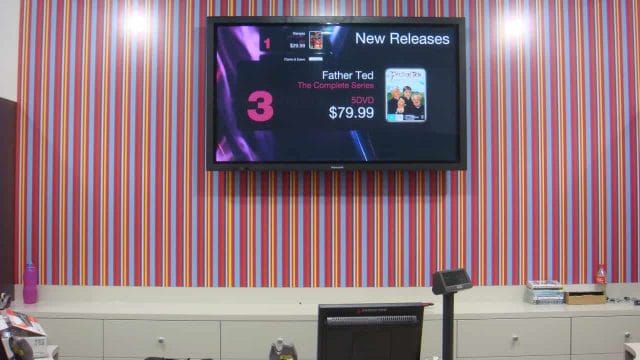 Industries using Digital Signage
Industries are extensively using digital signage services to advertise and market their services. Retail companies, the entertainment industry, medical facilities, corporate communications, and education centres are examples of industries where this technology is highly demanded.
Retailing industries are using digital signage to contend for customer attention to win against the high competition in the market. This technology is key in managing and controlling content distribution. It increases customers' awareness through dynamic advertising campaigns and can generate revenue when digital signage space gets sold to other businesses. With our solution, we are able to display dynamic content from your POS system or even from your eCommerce store. We are able to integrate and create a custom solution to display the most popular products in-store to increase revenue and traffic flow.
Medical facilities and banks
Digital signage entertains customers as they wait to be served. The content displayed is on the latest medical news to educate them and increase and build community awareness of medical information. This information can be grabbed dynamically from the medical centre's website and we have the tools and experience to do this. In banks, the ticket queuing system is integrated with the digital signage, so that the content displayed matches the information needed by the people waiting in the queue. For example, if the majority of people in the queue are doing business transactions, the digital signage system will promote business-related content to the bank's business services.
In cinemas, digital signage is integrated with the ePosters solution and displayed in targeted public areas for a more interactive customer experience. Moviegoers will be able to use the ePosters solution to view more digital content relating to the movie they are watching or planning to watch. Movie trailer videos can be added to the ePosters system for that extra engagement and interaction.
Digital signage screens are effective for auditoriums and theatres to display learning content to a larger audience. Displaying interactive materials makes learning fun and exciting. When coupled with digital wayfinding to help direct visitors to their destination, digital signage is the perfect solution for large education centres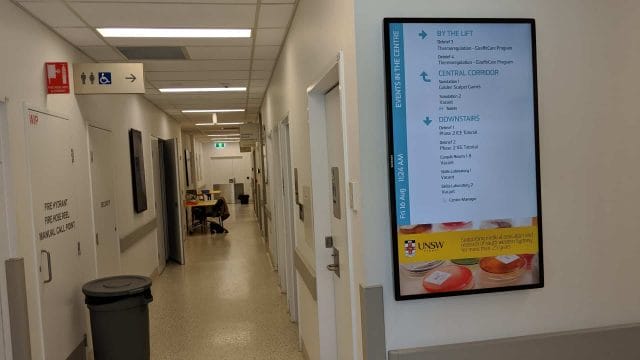 Businesses need digital signage to communicate information to their employees and visitors. For large corporate businesses with offices across different countries, the content can be remotely distributed by the head office and be consistent with their corporate brand. In addition, digital signage can be used for hot-desking solutions and digital wayfinding to improve employees satisfaction and productivity.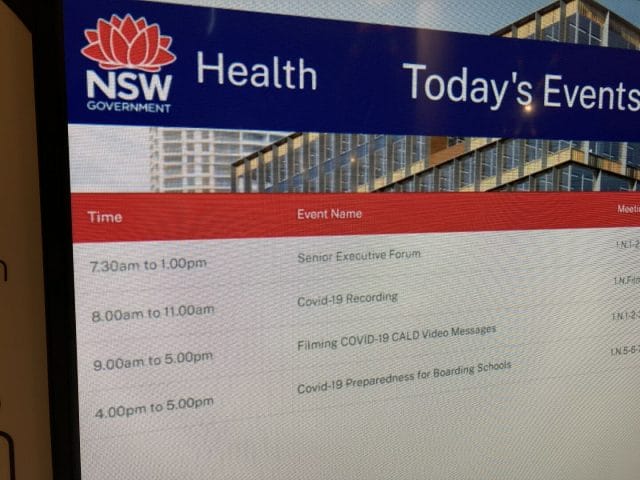 Digital Signage Projects
At Advertise Me we work closely with our clients to ensure that we deliver digital signage services that suit their specific needs. We have been engaged by various clients from various sectors to offer our digital signage services. Here are a few example projects we want to showcase with you:
We provided portable digital signage stands for Bankstown Hospital COVID-19 screening stations. The digital screens were strategically located at the main entrances where visitors and staff had to check in before they were able to enter the building.
We were engaged to provide a Video Wall solution for the University of NSW Medicine & Health South West Sydney Precinct. We supplied and set up a 4×1 Video Wall using 5.5mm bezel commercial grade screens at their temporary building at Liverpool Hospital.
The Cancer Therapy Centre used digital signage as a medical board and announcement board for their patients and staff. We built a custom software solution to allow staff to easily and quickly update content and information. This included displaying staff rosters and whether there were any delays with the radiotherapy rooms.
A digital signage solution was needed as a communication system for their newly built buildings. In total 18 screens were implemented across the building with different content based on the location of the screen. In the common areas such as Recreation Rooms, we even zoned an area of the screen to streaming the ABC24 channel so they could always be up to date with the news. All the screens are connected to the main server allowing them centrally manage the content as well as schedule specific content to display at specific times.
We supplied a simple digital signage screen that displayed menu images and videos of their food.
We supplied and installed a 2×2 Video Wall using 40″ LCD Ultra-Slim commercial grade screens at the main shopfront window. The Video Wall was used to display videos, images, staff profiles, real estate properties, and announcements and was integrated with the LJ Hooker E2 system to display the real estate properties.
We supplied and installed multiple commercial grade screens (welcome boards) across key locations across the medical centre which included main entrances, cafeteria, and waiting areas. The content was pushed from a central server to all the digital signage players on the network.
You can view our complete Portfolio here: Advertise Me Portfolio