If you're looking at transforming the user experience for your business then we have the perfect solution. We have built a Survey and QR codes solution that can be integrated with either your existing solution or it can work stand alone. As a result of the rapid development of innovation and technology, people around the world are now surrounded by screens and interactive touchscreens, so it's even more crucial for businesses to have a seamless and engaging user experience with their products and services. Through the use of digital tools such as Surveys and QR codes, users can engage with your business to provide instant feedback or obtain information directly from the screen.
Our clients have integrated these tools across their digital signage and digital wayfinding projects with great success. The surveys have been used to obtain customer satisfaction and QR codes have been used to obtain additional information on a poster/event and can also use to receive a guided map to their smartphone to assist them with navigating through their facility.
A great solution exists when digital signage is integrated with interactive surveys and QR codes. The combination of these technologies has served many companies very well in the past, and the current technological inventions have made it even more noticeable and dependable. These features have been handy in accessing information for different industry sectors and locations such as retail services by providing store locations information, product information, and amenities locations. Remember, that each customer is looking to quickly find a location and move from point A to B independently without having to ask someone. This is one of the main reasons why we built a Digital Wayfinding Solution like no other and we have introduced different modules such as Surveys and QR Codes.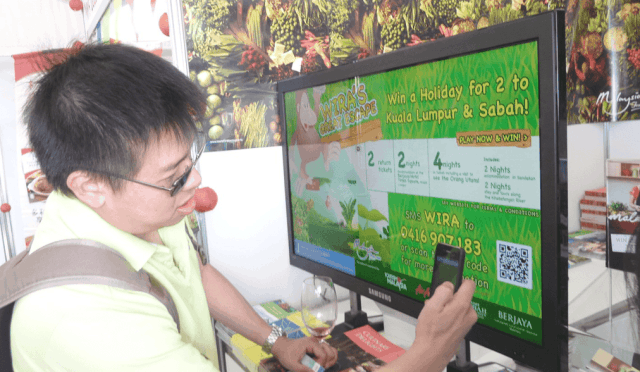 Integrating digital signage with digital surveys and QR codes provides the best experience and satisfaction for all of our clients and their visitors. It makes accessibility and sharing of information a straightforward endeavour that anyone will quickly adapt to. By introducing Digital Wayfinding, businesses and visitors will save on time, save energy and ultimately save money. The experience of getting lost in a shopping centre could be so detrimental for a shopper they may not even continue with their shopping – this is not a shopping experience any retailer or business wants. One of the ways our Digital Wayfinding Solution solves this is by generating QR codes on the digital screen that the customers can scan using their mobile phones. The mobile phone will then display their destination routes and they can follow this whilst they are walking in the building. We've made it so simple that they don't need to spend time having to install a mobile app from Android Play or App Store. The digital maps we generate is characterised by directions, parking lots, names of rooms, floors, and elevator locations, amongst other features.
Understanding QR codes
In the past, QR codes were used by governmental organisations, eCommerce stores, and marketing agencies to display coded information. QR codes, interactive surveys, and digital signage are commonly used in almost every establishment and they are becoming more popular. During this COVID pandemic, you would have definitely seen QR codes, as you would have pointed your mobile phones at these weird-looking black and white patterns before entering a retail store. A QR code is defined as a short 1-dimensional barcode composed of 2-D information. It works through scanning to open a corresponding web browser or an application. They have been used for check-in verification in business and business establishments in most cases. The codes vary depending on their use and the top apps used to scan them and they can be easily displayed on a digital signage screen.
Using Surveys on Digital Wayfinding
Our survey module is what every business needs to gauge the experience and satisfaction of the customers on the services they offer. This feature will help the organisation assess its service and realise what needs improvement. The survey module is presented at the end of the services or experience offered, and the client provides feedback either using a scale of 1 to 5 or answering simple multiple-choice questions. This all depends on the type of services and products offered by the organisation. On our digital wayfinding solution, the questions are interactive, the survey results can be analysed, and any negative responses can be addressed promptly. The customers could be asked about their experience in the organisation or how well they have been helped. Here's an example of the survey that was used at a hospital
Customers using QR codes and Interactive Surveys
This feature in our system offers the 'take the map with you' module, and gives the user the ability to scan a QR code or send an SMS number to get the map to be displayed on their mobile phones. Our digital wayfinding solution displays buttons on the screen and the user can press the QR code or Survey button. If they choose the QR code button, they will be displayed with the QR code to scan and users will only need to scan the codes and access the map access link on their mobile phones. The QR is very useful and has been an amazing feature for anyone who needs extra help accessing and reaching their destinations. If the customer presses the survey button, they will be presented with a simple to use form and select responses to those questions or select a rating. We've made it really simple to use because we know that the customers' time is valuable and spending too much time submitting surveys can also be a bad experience.
How the interactive survey and the QR codes have transformed the user experience
Looking at the users' experience during the onset of the Covid-19 pandemic and when the QR codes and surveys were introduced in various businesses is the most accurate example of the impact of QR codes and surveys. Using the QR codes and surveys interactively with the digital signage has caused a more incredible experience that has shaped the face of every organisation today. Ways through which the codes and surveys have transformed the users' experience include:
They offer digital signage and marketing opportunities.
The retailers use the QR codes to scan storefront data and use it in campaign advertisements. This is important in attracting the attention of various shoppers to particular advertising or a marketing opportunity. When the QR code data is tailored for promotion, the users can display them to get discounts and coupons, among other types of promotions. In addition, you even use the QR code to link to a survey form so the customer can fill it out on their mobile device.
The QR codes are easy to use and do not require sophisticated technology
Our digital wayfinding solutions work easily and smoothly with QR codes. A customer doesn't need to install a particular mobile app to scan it. The QR code scanning is done using the camera app, after which a link is displayed on the camera app, and the user will only click it to access and view their map and the route. This is the top-notch scale of using the digital wayfinding solutions that we are diligently working to help every business have and use to enhance their business.
Benefits of using the QR module and Survey module to the Digital Wayfinding Solution
1) It displays codes for every destination
The module is working wonders in dynamically displaying QR codes for every destination. Therefore your customers are only required to scan the codes using their mobile cameras, and they can get a route map to navigate every destination easily and faster.
2) They enhance customer safety within your premises
Once the code is scanned, our system will show the quickest and safest route to the destination. If there is a corridor, lift or section of the route that is no longer accessible, we can quickly block this on the digital wayfinding system and it will automatically display a different route to the destination.
3) The codes are compatible with different mobile phones browsers
Every mobile phone brand or version can scan the QR codes as long as they can access the internet. The codes are not limited to a specific browser as well. So it is any mobile brand, any available browser, and you can scan and navigate your route like a pro.
4) We redirect information from the digital wayfinding solution to a mobile device
The digital wayfinding solution will display QR codes on the home or destinations screens for a thought-out solution. Once scanned, it can guide and redirect the customer to use the mobile version of the route
5) The surveys are interactive and open
The customer feels happy to have an organisation's interest at heart. Asking for feedback is a sure way to show the client that you care about their experience in your business. They will be able to quickly express their concerns and get the assurance they need to continue buying your products.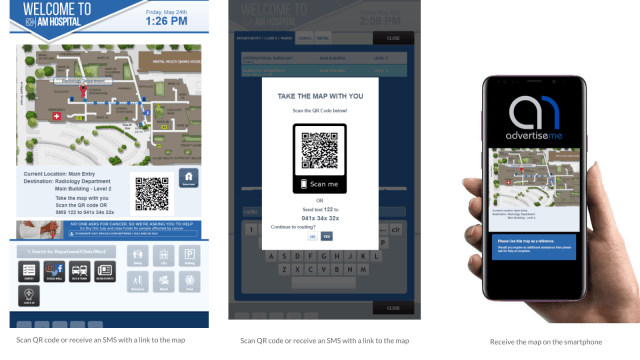 QR codes and survey modules have caused a great revolution in the business industry and others. Integrating the digital wayfinding solution with the QR codes and the survey module has been a big plus to winning in a business world characterized by technological advancements every day. Keep winning with us by using our Digital Wayfinding Solution.