What is a Social Wall?
A Social Wall or Social Media Wall refers to a digital wall created by grabbing and aggregating posts and tweets from the most popular and common social media platforms (such as Facebook, Twitter, Instagram, YouTube, and Pinterest) and displaying them all on one social wall. This cool tech uses software to select, display, and aggregate social media posts for a particular brand in a cool and fun way on any digital medium to create a digital buzz. At Advertise Me, we provide our clients with well-designed and customised Digital Signage and Social Wall technology for effective digital marketing. Our clients can display their brand content from their social media feeds during events and are able to enjoy an exponential audience reach.
Using Social Walls with Digital Signage
Social Wall is a custom-built digital social media tool that works effectively when integrated with digital signage software. It is perfect for events and can be used on any digital signage platform. Using Social Walls with digital signage has brought about a new marketing era in the advertising industry. Today, the fronts of every organisation or company are using Social Wall displays to showcase their social media content, announcement and the products they offer. Organisations are embedding their marketing pages or websites with Social Walls as content can be dynamically updated from one content platform. This means a business can have all their social media feeds displayed live on their digital signage medium (website, digital screens, projectors, mobile phone, Intranet, digital wayfinding solutions or any digital solution. With our Social Wall solution, you are able to run a hashtag campaign as a way of enhancing customer engagement and display a mixture of your social media posts and posts from your customers or visitors attending an event.
Integrating digital signage and Social Wall has been a great way for marketing agencies to help promote their clients during events. Other than having a mere display of the brand's products, a Social Wall makes it easy to engage people to follow the social accounts and visitors can also use brands created hashtag campaigns to promote the clients.  At Advertise Me, we can create custom branding Social Walls that are well designed and integrated with the digital signage to ensure brands' social feeds are displayed well to increase audience engagement by captivating them with digital real-time signage. We work closely with you or your clients to make sure the Social Wall is effective and will stand out at the event or exhibition.
Benefits of using the Social Wall at an event
Understanding the benefits of using the Social Wall events starts with understanding the features of this technology. A Social Wall can be customised and designed to accommodate your business branding guidelines. One of the main benefits of using a Social Wal at an event is to generate hype and engagement with the visitors and exhibitors. Since the Social Wall is able to display feeds from social media accounts such as Twitter, Facebook, Pinterest, YouTube, and Instagram, you can aggregate all of these posts and display them on a large media wall. The technology is cloud-based and can be used anywhere there is an Internet connection. With our Social Wall, we can filter posts based on hashtags and only display posts related to the event or exhibition. We can also filter based on specific date ranges, which means if the event is only running on specific days, we can only show hashtags posts that have been posted on those days. Our solution also has a feature called custom posts, where you can publish a post on Social Wall only and it will not be published on any social media platform. For example, you can publish a post with instructions on how to use the hashtag at the even and it won't be displayed anywhere else. Or you can use custom posts to display announcements that are only relevant to the event like even special promotions.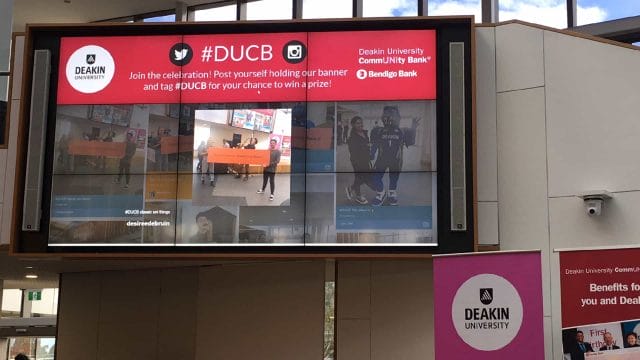 Social walls are customised according to the event and brand specifications
At Advertise Me, we can completely customise the look and feel of the Social Wall by providing our clients with their own unique CSS styling. Everything from font, colours, or background can be customised. The technology can also customise the post being displayed, by inserting custom posts on clients' walls. This can be used for Sponsored Posts, Advertising, or Communication.
Attracting the attention of the audience and growing more social media followers
Social Walls provide visually attractive digital signage that will surely draw the attention of the audience. The popping of hashtags on the Social Wall screen encourages others to also post on social media and showcase more about the event. The Social Wall is also open to hashtag sharing by the audience and making contributions about the brand and the event. This makes it fun and entertaining, thus attracting more attention. 
Engaging the audience
Social Wall has been embraced entirely as the best technology able to create engaging and interactive media for the attendees during an event. At Advertise Me, we use the best aggregator tool to accurately collect social feeds from different social media networks of the brand and make it possible for the audience to interact with them during events. In addition, we can also use our interactive digital solution called ePosters to display engaging posters for visitors to interact with. The Social Wall provides customised hashtags to ensure wholesome participation of the audience, by commenting, sharing and giving feedback on the event hence preventing spacing out during events. 
Event promotion
Attracting and engaging the audience is all geared towards promoting the event. Using the Social Wall for a brand is like the social hub where the audience gets to interact. Running a hashtag campaign and sharing it for the audience to use is a sure way that most brands get to create a digital buzz and promote their events. The audience interacts with each other and with the digital signage. They are able to make posts and tweets using the social wall hashtag, hence promoting the brand and enhancing interactions. 
Some of our social wall projects
Video Wall & Social Wall – Ingham Institute Health and Beyond
Advertise Me was engaged to provide a Video Wall and Social Wall solution for the Ingham Institute Health and Beyond event. We supplied and installed a 2×2 Video Wall using 40″ LCD Ultra-Slim commercial grade screens at the main entrance. Attendees were able to take a photo using an Instagram cutout board and post it on their Instagram profile using the hashtag #healthbeyond2017 and our Social Wall system displayed these on the Video Wall using our AdvertiseMe.TV digital signage cloud-based solution. The Video Wall was also used to display images and information about the event. 
Social Wall – Yalari Dinner Events
Advertise Me was engaged to provide a social media solution for Yalari. Yalari is a not-for-profit organisation that offers quality, secondary education scholarships at leading Australian boarding schools for Indigenous children from regional, rural and remote communities. Our solution was used at 4 events located in Sydney, Brisbane, Melbourne, and Adelaide. During this event, our Social Wall custom branding solution was used to display social media posts relevant to the event. We also used our digital signage software solution to provide custom branding to the Social Wall and allowed the client to quickly and easily update status messages from their mobile phones.
Social Wall – Macquarie University Event
Advertise Me was engaged to provide a social media solution for Macquarie Univerisity. Macquarie University used Social Wall at the Innovative Leaders Series Networking Event. The Social Wall solution was used to display social media posts from the main account and also hashtags posted by people attending the event.