Advertise Me has been a leader in the digital signage industry for the last decade. During this time, our professional team has developed extensive expertise and cream-of-the-crop industry practices. From quick installation to reliable support services, Advertise Me is dedicated to providing top-tier quality service every step of the way. We have worked with a number of businesses, large and small. Each business we have helped has a unique set of challenges and we've successfully deployed a digital solution to meet all their needs. We realise that every business is different and each needs to find the best digital signage solution available, hence the reason why we even built our own digital signage software solution. Our digital signage consultants can help you build the most innovative digital signage for your business. We will help you choose or even build the right hardware and software, install it, and train your staff to use it correctly.
If your business wants to stay ahead of the competition and keep your customers happy, you need to provide them with engaging and real-time information on their digital signage solution. Get your business on the cutting edge of digital signage technology and boost sales by providing information to customers in real-time (such as price information, digital wayfinding locations, and room bookings). By using the latest digital signage technology, you can do this quickly and easily, especially if your solution is cloud-based. Our digital signage software cloud-based solution is called AdvertiseMe.TV and we have custom-built this solution based on all the different experiences with our early clients.
What kind of impact will digital signage have on your business? It totally depends on what kind of business you have and how much time and money the business is willing to invest. For example, large businesses have seen tremendous results from digital signs like increased sales and brand recognition. When we first started our digital signage business, we saw the exponential growth of even small businesses using digital signs to promote their products and services. Those businesses that are struggling with gaining visibility in their industry are most likely not using digital signage or interactive solutions. Our digital signage consultants know what will work best for your business and community.
Our expert team will provide you with the best strategies to increase your sales and profits. If you're looking for a digital signage solution, you must be aware of the fact that there is a lot of competition and not all companies can stay on top. That's why we offer digital signage consulting services to help you improve your business.
If you're looking for help creating a digital signage solution for your business, our digital signage consultants can assist you. We'll work with you to determine what kind of digital signage will be most effective for your business and help you create a plan to implement it. Our experts will tell you what equipment to purchase, where to place your displays and how to maintain them. Our digital signage consultants can also assist you in creating and running a long-term marketing plan. Having been in the digital signage industry for almost two decades, our digital signage professionals will know what strategies and systems will work best for your business and can help you reach your business goals.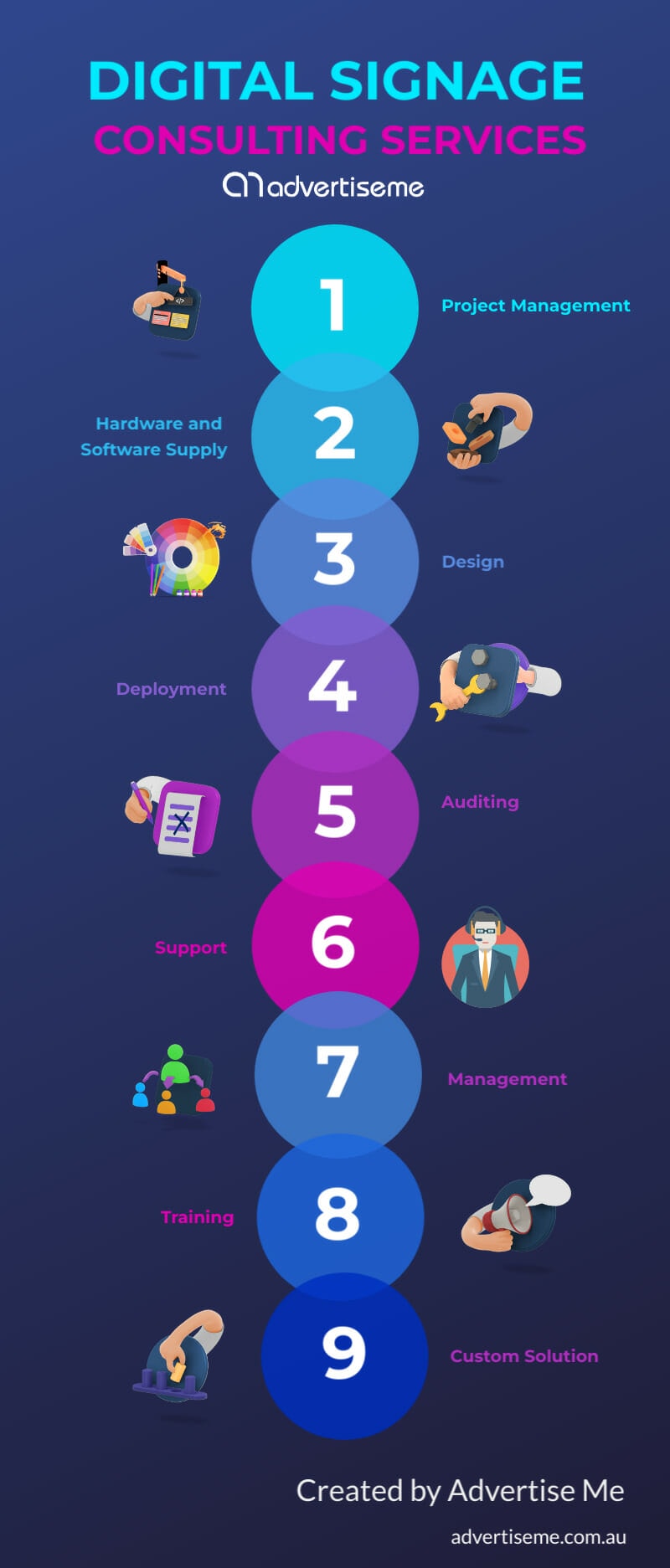 Here's a list of services we will be able to provide your business:
PROJECT MANAGEMENT
Digital signage has come a long way in recent years, and the project management landscape has changed over the years. Here are three tips for managing your digital signage projects effectively.
1. Define the business objectives early on and be clear about what the business wants to achieve with your digital signage solution. This will help you determine the scope of the project and set realistic expectations
2. Assemble your team members who can help you with different aspects of the project, from hardware and software to design and installation
3. Create a detailed plan that takes into account all the different elements of the project, including timelines, budget, and risks. This will help you stay on track and avoid surprises along the way
We have used a number of project management tools in the past such as Microsoft Project, Asana and now we're currently using Jumppl an all in one project and team management tool
HARDWARE AND SOFTWARE SUPPLY
There is a vast amount of Digital signage hardware and software available on the market. Over the years, we tested so many hardware devices that we just decided it was not feasible to continue to do so and we decided to stick with only certain reputable brands. Digital signage hardware ranges from digital signage players, digital signage screens, cables, video extenders, screen mounts, and projectors and you will find some listed on our hardware product store: DIGITAL SIGNAGE HARDWARE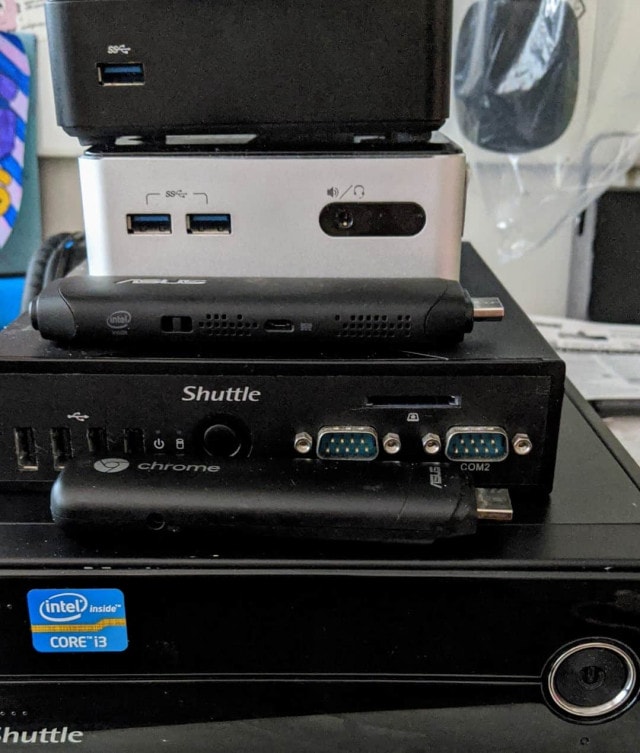 Digital signage software is the brains behind the whole solution and is responsible for managing, pushing and displaying the content on the screens. It can be used to create static or animated images, videos and text. We have even built our own custom solution to display data feeds and real-time information. Hence the reason why we've created different digital signage software modules to cater to these different business requirements. Here's a list of our current digital signage software modules:
DESIGN
A great digital signage design is based and developed on understanding the goals and business requirements. When it comes to digital signage, there are a few key things to keep in mind in order to create a design that is both effective and eye-catching. First, consider the placement of your digital signage. Where will it be most visible to your target audience? Second, keep your message clear and concise with a focus on who is your intended target audience.  Your audience should be able to understand your message quickly and easily. Third, use images and videos wisely – unique and interesting content will always be more eye-catching. Too much information can be overwhelming, so make sure to use visuals sparingly. And lastly, don't forget to test your design before rolling it out. By following these simple tips, you'll be on your way to creating digital signage that is sure to get noticed. You can read more about good design in this article: HOW TO INCORPORATE GOOD DESIGN ELEMENTS IN YOUR DIGITAL SIGNAGE
DEPLOYMENT
Digital signage is a new and increasingly popular way to communicate with customers and employees. There are many benefits to deploying digital signage, including the ability to update information in real-time, the ability to track customer engagement, and the ability to create a more interactive customer experience. As technology continues to evolve, so does the way businesses communicate with their customers. One of the most popular and effective methods for businesses to reach their customers is through digital signage. There are many benefits of deploying digital signage, including the ability to target specific audiences, the ability to update content in real-time, and the ability to track customer engagement. Additionally, digital signage is a cost-effective way to reach a large number of people with your message. If you're considering deploying digital signage, there are a few things to keep in mind, including choosing the right type of display, determining the placement of the displays, and creating engaging content. You can check out some of our digital signage deployments in the portfolio section: DIGITAL SIGNAGE PORTFOLIO
AUDITING
Auditing a digital signage solution can be a daunting task, and if your team or business doesn't have the time to do this, then our professional consultants are able to step in and take the lead. Our team will provide careful planning on what parts of the digital signage solution we will audit and then go in-depth with an analysis of the results from the audit. Here is a list of tasks our team will perform when auditing a digital signage solution:
1. Define the scope of the audit. We will meet with your team and understand the digital signage network and the hardware components. We will then break down whether you want us to audit the entire digital signage solution or just parts of it. This will help us determine what kind of information we need to collect and provide in the audit report
2. We will develop a checklist of items to look for during the audit. This should include things like content accuracy, display quality, and proper functioning of hardware and software
3. Schedule a time to perform the audit and collect all the logs the digital signage network has available. We will then provide a timeframe of how long it will take us to complete the audit based on the information collected
4. We will inspect the digital signage system carefully, using your checklist as a guide and after analysing the complete digital signage solution we will provide a detailed audit report which will include any identified problems and also areas of improvements
SUPPORT
As the world increasingly moves toward digital solutions, businesses are looking for ways to keep up with the times. More and more, they are turning to digital signage as a way to engage with their customers. But what happens when something goes wrong with your digital signage? Who do you call for support? Having been in the business for so long, Advertise Me understands that not everyone is a tech expert. That's why we offer remote support for all of our digital signage products. Whether it's through our remote support tools or via a dedicated VPN solution, our team will make sure we can help you when the time comes. We will help you troubleshoot any problems you may be having, no matter where you are in the world.
MANAGEMENT
We've recently posted an article Managing a Digital Signage Network and have detailed how we help businesses manage their digital signage solutions. Whether it's remote monitoring, troubleshooting, firmware upgrades, or even hardware and software refresh, we've done it all. Our team will even manage the entire solution for you so you don't have to worry about updating the content yourself. Just send us the content and we will take care of the rest.
TRAINING
As the use of digital signage continues to grow in popularity, it's important for businesses to have a reliable and effective training process in place and if your business doesn't have one we are also here to help. For every digital signage deployment, we have provided training sessions to staff who will be using the digital signage solution. We've provided tailored training sessions and materials catered for each business. By having a digital signage training process in place, businesses can ensure that their employees are properly trained on how to use and maintain the signage. Additionally, a digital signage training process can help businesses keep their signage up-to-date and compliant with industry regulations.

CUSTOM SOLUTION
Over the years, we have built one-of-a-kind custom digital signage solutions for our clients. We have built custom solutions including the software and hardware. Our team has done it all. Your business can rest assured you will be dealing with one of the best digital signage companies in Australia. Here are a few examples:
Now, if our solution doesn't do what you need it to do, we will custom built those features for you as we understand and acknowledge every business is different.
When it comes to outfitting your office, restaurants, universities, and hospitals with the right digital signage solution, you can count on us – your digital signage solution partners. That way, you can focus on running your business and leave all the consulting worries to us. If you want to stay ahead of the competition and keep your customers happy, you need to provide them with real-time information. By using the latest technology, you can do this quickly and easily. This will boost sales and keep your business on the cutting edge. To start the digital signage journey process and contact us to hire a professional digital signage consultant to discuss your requirements.