Our digital signage software (advertiseme.tv) is an invaluable tool for businesses and organisations of any size. We built this tool from the ground up and from years of experience in the digital signage industry. Our digital signage software helps organisations to easily and efficiently display engaging content. With our digital signage software, businesses can create custom content to engage customers, deliver adverts and promotions, and communicate with employees. The software also gives organisations the ability to display real-time information such as booking information, making it an ideal way to display information quickly and accurately. Our digital signage software is built with various features and we even created specific custom modules to help fill specific industry gaps. Understanding the features and functionality of digital signage software is critical for any business or organization looking to implement this technology and we've got you covered because we recently launched our advertiseme.tv website. On the website, we will showcase all the features of our digital signage software, how-to videos, case studies, our roadmap and so much more.
When we built our digital signage software we wanted to make it as easy to use as possible. Our main focus was simplicity, we just wanted our users to upload their digital content and only make a few changes, then our system takes care of the rest. We didn't want to be a tool to create visually appealing content as there are so many tools already available in the market such as Canva or GetStencil. Our digital signage software solution helps you quickly create slideshows and distribute these to individual screens or groups of screens.  It basically simplifies the process of distributing content to multiple devices, allowing users to focus on other aspects of their digital signage campaigns. With digital signage software, users have the ability to create, edit and customise content instances in minutes, making it a great solution for businesses looking to create effective digital signage campaigns.
Our digital signage software offers a simple way of scheduling and gives you full control over when and where your messages appear. Our feedback was that most businesses don't use dayparting unless you run a digital advertising network and based on this we create a simple scheduling function that allows you to select a slideshow to display at certain times of the day.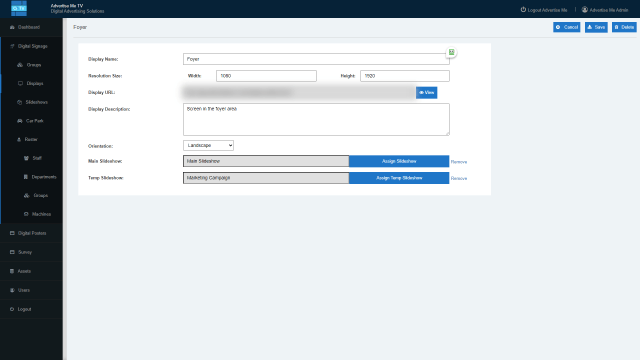 With our temp slideshow feature, you can use the software to schedule the slideshow ahead of time, so you won't have to manually adjust each display every time you want to change an advertisement or announcement. For example, if you needed to display a marketing slideshow pre Christmas peak periods, between the 15th of December and 23rd of December on Tuesdays and Fridays from 12am-1pm then you can create a schedule similar to the below example: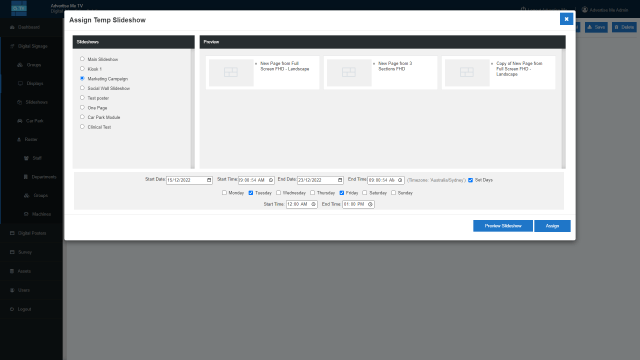 This makes for a more efficient workflow, as you can set your content to appear at different times and locations according to your desired audience.
Our digital signage software is not only user-friendly but think of it as a digital content management system, which can like images, videos, text, and interactive widgets, with a powerful set of modules that make it easier to manage your digital signage. These digital signage modules include a car park module, staff rostering, news and events, surveys, bus and train timetables and if you need something specific we can build it. With these modules, you can easily create and display content that is relevant and engaging to your customers. Since it's custom-built, any adjustments and improvements can be added or built accordingly. Advertiseme.TV is a powerful digital signage software that can also be used for navigation purposes. This software is easy to use, allowing you to create and manage directions quickly and easily.
Digital signage software is becoming increasingly popular and is being adopted in many industries. Retailers are using digital signage software to display product information, promotions, and advertisements to customers, while restaurants are using it to display menu items and specials. Healthcare organisations are using digital signage software to display patient information and medical education materials, while educational institutions are using it to display announcements, updates, and student achievement information. In addition, businesses are using digital signage software to display company news, events, and employee recognition. Digital signage software is an invaluable tool for businesses seeking to increase customer engagement and improve their brand image and you can read some of our case studies in our portfolio.