It's time to consider using interactive digital signage! At Advertise Me, we have been introducing innovative digital concepts to businesses and even building digital signage solutions that are unique and different. We have been replacing the use of static advertisements and signs that fail to capture the attention of your customers. In this article, we will discuss why and what the benefits are of using digital signage. Digital signage offers a unique and engaging way to bring your business to life and create meaningful connections and interactions with your customers. From using interactive touch screens to displaying personalised messaging, interactive digital signage can take your business to the next level. Over the years, we have shared some of the best practices, tips, and tricks on our digital signage blog but we decided to share some of these here on this website. If followed correctly you can also make your digital signage solution more effective and captivating. So, let's dive in and discover the power of interactive digital signage solutions to bring your business to life.
What is Interactive Digital Signage?
Interactive digital signage such as using our touch screen solutions, ePosters and digital wayfinding solutions, is a modern way to display dynamic and engaging digital content that visitors or users can interact with. Instead of static advertisements and signs, our interactive digital signage solutions allow businesses to display multimedia such as videos, photos, and interactive elements like touch screens and custom web applications. The benefits of our using interactive digital signage include increased engagement and retention from customers, more effective advertising and marketing, and overall greater customer satisfaction.
We offer interactive digital signage solutions that give businesses the ability to create custom content that can be tailored to target specific audiences. We build a custom solution for UNSW that displayed specific events from their Event Management System.
We basically help businesses use different technologies to display personalised messages or information to customers or create interactive experiences such as touch screens. These customisations allow us to capture customer attention, engage customers and even encourage repeat business.
Interactive digital signage can also be used for advertising and marketing purposes. By displaying engaging content, businesses can grab the attention of potential customers and increase brand awareness. Additionally, interactive digital signage solutions can be used to track customer data such as how long they spend using the displays, what content they view, and even what products they purchase. This data can be used to make more informed decisions about customer engagement and marketing strategies.
Benefits of Interactive Digital Signage
Interactive digital signage can be a powerful tool for businesses looking to make a lasting impression on their customers. By providing interactive experiences, companies can connect with customers on a deeper level and draw more attention to their products and services. With interactive digital signage, customers have the ability to access product information, view promotions, and even interact with the business. This gives customers a unique way to engage with the business and make their own decisions.
Another advantage of interactive digital signage is its ability to deliver personalised messages and content. By targeting specific customers, businesses can create a sense of connection and relevance that can increase engagement and build loyalty. By offering personalised content, businesses can give customers exactly what they are looking for. Additionally, interactive digital signage can be used to collect data by using surveys that can be used to better understand customers and inform future marketing strategies.
Interactive digital signage can be an effective and cost-efficient way for businesses to create meaningful engagement with their customers.
Types of Interactive Digital Signage Solutions
Interactive digital signage can come in many forms, from touch screens to personalised messaging and more. These solutions offer businesses a unique and engaging way to interact with customers, providing them with access to information, allowing them to navigate through content, and even interact with the business. Some examples of interactive digital signage solutions include:
Touch screen displays: These allow customers to interact with the content on the screen by using their fingers to tap and swipe through information. We supply different models and brands (LG, Samsung, Panasonic, NEC, Philips) of touch screens depending on the business requirements.
Interactive kiosks: These self-service stations provide customers with information and allow them to complete transactions such as ordering food or buying tickets. We have primarily used these for our digital wayfinding solutions and ePosters. Users are able to find the information they are looking for via the interactive kiosks.
Personalised messaging: This type of solution uses customer data to display personalised content, such as special offers or product recommendations. These can be displayed on the interactive touch screens or kiosks during or at the end of the interaction. For example, we can display a QR code on the screen so that the users can scan and enter a draw to win a prize.
Augmented Reality: This solution allows customers to interact with digital elements in the real world, creating a more immersive and engaging experience.
Digital menu boards: This type of solution allows customers to view menu items, prices and nutritional information on digital screens.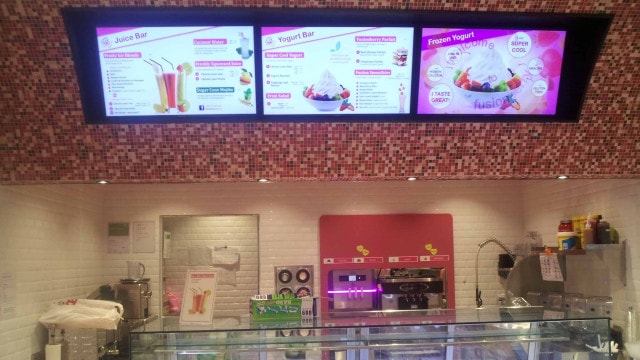 Interactive window displays: These use projection or LCD technology to display digital content on a store window, creating an interactive and attention-grabbing display for pedestrians passing by. They can also be displayed on a glass door like in the below project we did for UNSW.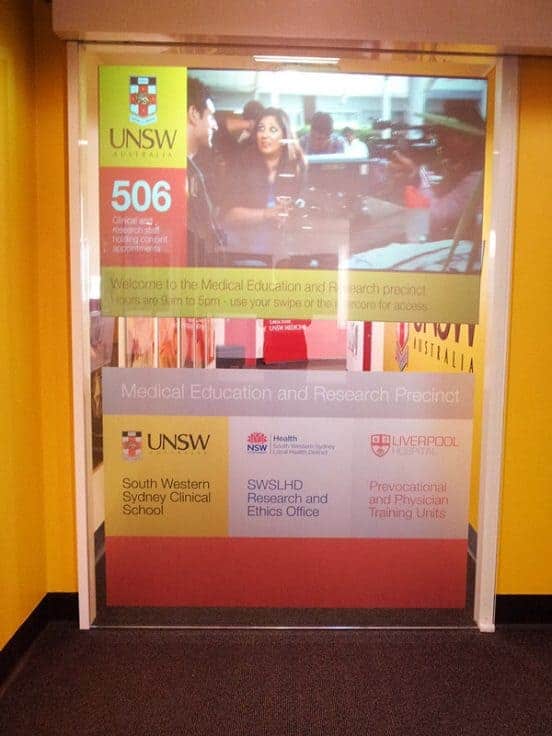 Virtual reality solutions: This type of solution allows customers to immerse themselves in a virtual world and interact with products or scenarios before making a purchase decision.
These are just a few examples of the different types of interactive digital signage solutions that businesses can use to create a unique and memorable experience for their customers.
Benefits of Personalised Messaging
Personalised messaging can be a key advantage of interactive digital signage. By tailoring your message to specific customers, you can make it more relevant and engaging to them. This can be beneficial for both customers and businesses, as it can help to create a better image for your business and make it stand out from competitors. Personalised messaging can also be a great way to create a more memorable and effective message.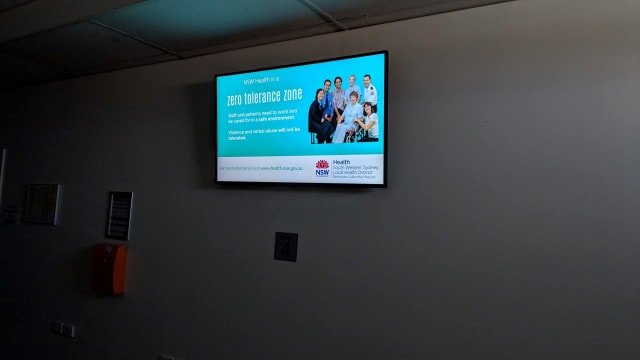 Additionally, using personalised messaging allows you to understand and cater to the specific needs and wants of customers. By providing them with a tailored experience, you can increase their satisfaction and loyalty to your business. This level of engagement can help strengthen customer relationships and drive sales.
Overall, personalised messaging can be an effective way to create a unique and engaging experience for customers through interactive digital signage. It should not be overlooked as an important aspect of any digital signage strategy.
Benefits of Digital Menus
Digital menus provide a modern and engaging way for customers to order their food. With digital menus, customers can place their orders from their seats or even remotely, making the process more convenient for them. Digital menus also allow customers to view detailed descriptions of menu items and images to ensure the accuracy of their orders. This can also help to reduce wait times for customers by quickly sending orders to kitchen staff.
Furthermore, digital menus offer a new way for businesses to promote their products and services. By featuring promotional messages and videos, businesses can draw customers' attention to specific menu items or specials. These messages can also be customised to target specific customers based on their preferences, location, and time of day. Digital menus also provide a more cost-effective alternative for advertising and promoting compared to traditional methods such as print ads and billboards.
Overall, digital menus provide an innovative and engaging way to bring in customers and promote products and services in a cost-efficient manner. By utilising interactive digital signage solutions, businesses can create a unique experience for customers and increase their satisfaction.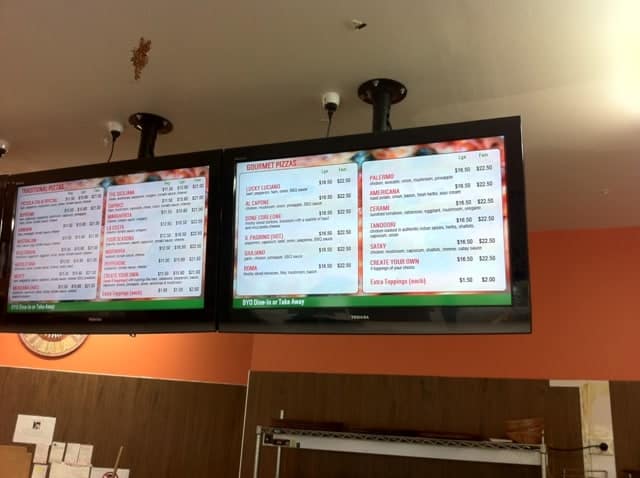 Benefits of Interactive Kiosks
Interactive kiosks offer a highly engaging way to reach customers in a way that static signage often cannot. Through an interactive kiosk, customers can access personalised messages, information, games and more. This interactive experience can help you capture the attention of your customers and provide them with a more meaningful and enjoyable experience.
Furthermore, interactive kiosks allow you to take advantage of digital signage solutions to create fully-customisable displays. You can create specific displays for targeted segments of your customers, engage customers with interactive experiences, and even use digital signage solutions to advertise new products or services. You can also use interactive kiosks to collect feedback from your customers or to provide customer service and assistance.
In addition, interactive kiosks can be used to create unique experiences for events and public spaces. By utilising interactive kiosks, you can provide attendees and customers with a better overall experience. This can help to draw a larger crowd to your event and create a more positive overall experience. Additionally, interactive kiosks can be used to increase customer loyalty and help to build a stronger relationship between the customer and your business.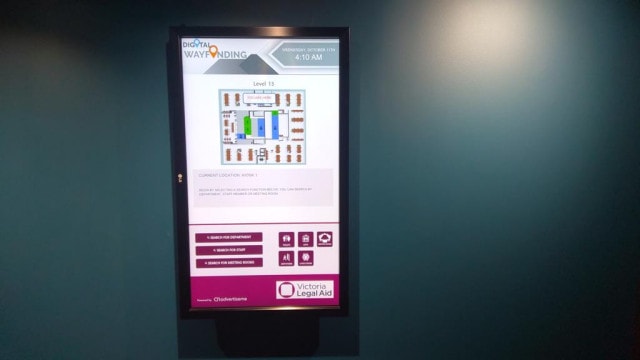 Overall, interactive kiosks offer numerous benefits that can help your business stand out from the competition. With the help of interactive digital signage solutions, you can create a unique, engaging experience for your customers, increase customer loyalty, and collect valuable feedback from your customers.
Benefits of Social Media Integration
Digital signage solutions can be incredibly beneficial to businesses. Not only do interactive digital signs provide a modern and eye-catching way to advertise products and services, but they can also be used to engage customers and improve the overall customer experience. With interactive digital signage solutions, businesses can integrate social media with their digital signage to create a more dynamic and engaging experience by using our Social Wall tool.
Integrating social media with digital signage solutions can help businesses reach their customers in a more direct and meaningful way. For example, businesses can display their Twitter, Facebook, and Instagram feeds on their digital signage displays. This adds a personal touch to the digital signage experience, allowing customers to feel connected to the business. Through social media integration, businesses can use digital signage to promote their brand and products, as well as provide customers with timely updates and information.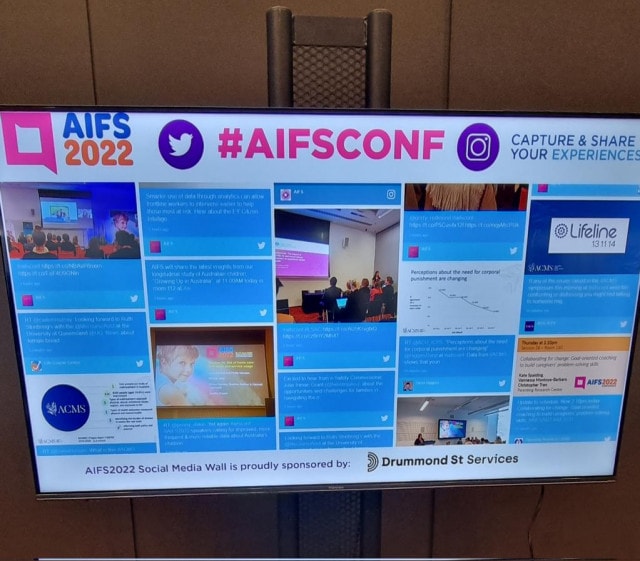 In addition to increasing engagement and consumer awareness, social media integration with digital signage also provides businesses with a cost-effective form of advertising. By utilising their own social media accounts and integrating them with digital signage solutions, businesses can reduce the cost of traditional advertising while still reaching a broad audience. This can help businesses save time and money while still achieving their desired results. Overall, integrating social media with digital signage solutions offers businesses numerous benefits and can help them stand out from the competition.
Benefits of Digital Advertisements
Digital signage solutions offer a wide range of advantages that are difficult to achieve with traditional static signage. With interactive digital signage, businesses can instantly capture the attention of their customers and create powerful and engaging experiences. Digital signage allows for much more visual flexibility, enabling businesses to quickly and easily update their ads, promotions, and other content. Brands also benefit from being able to customise their message and content to their particular target audience. Additionally, businesses can track metrics such as customer engagement and conversion rates to better understand the effectiveness of their digital signage campaigns.
Interactive digital signage solutions also offer unique opportunities for businesses to interact and engage with their customers. From interactive touch screens to personalised messaging and more, digital signage can help business owners foster meaningful relationships with their customers. As customers feel more connected to their favourite brands, sales and loyalty are likely to increase. Digital signage also allows businesses to easily promote special offers, discounts, and other time-sensitive messages, driving more foot traffic and boosting sales. Ultimately, digital signage solutions are a powerful tool for businesses to draw attention to their brand and create a memorable experience for customers.
Best Practices for Creating Digital Signage
When it comes to creating digital signage, there are a few best practices to keep in mind. First, create engaging, interactive content that customers can interact with. Content should be relevant to your business, creative, and informative. It should also be easy to understand and interesting enough to keep customers focused. Additionally, it is important to create content that is both visually appealing and relevant to the space you are located in. This will help to draw attention to your signage and ultimately attract more customers.
Once you have created the content, it is important to ensure that your signage is properly displayed. Consider the lighting, size, and placement of the displays to ensure that they are visible and accessible to customers. Additionally, make sure your displays are updated regularly with fresh, engaging content. This will help to keep customers engaged and coming back for more.
By following these best practices, you can create dynamic digital signage solutions that will attract and engage customers. Interactive digital signage solutions offer an exciting way to connect with customers and promote your business. With the right content, the right displays, and the right placement, you can ensure that your digital signage solutions will be successful.
Challenges of Digital Signage
Digital signage solutions can be a great way to engage your customers and create an interactive experience for them. However, implementing digital signage solutions can present a number of challenges. For starters, it is important to have the right hardware and software in place to ensure that the system is running optimally. This can include setting up the correct displays, selecting the appropriate software, and configuring the system for your specific needs.
Additionally, digital signage solutions require a lot of maintenance and upkeep. This means it is important to have a dedicated team of experts to manage the system and ensure that it is always running smoothly. Additionally, the content and displays need to be updated regularly to ensure that customers get the right information and experience. Finally, it is important to consider the cost of the digital signage solution and ensure that it is within your budget.
At Advertise Me, we manage the complete solution and take care of all the challenges you may face with your digital signage deployment. Having been in the industry for decades, we the knowledge and experience to help you navigate through the digital signage journey.
Final Tips for Making Digital Signage Effective
There are several tips to help ensure that your interactive digital signage is effective. First and foremost, maintain a consistent message across your digital displays. Having a consistent message is key to ensuring maximum impact and creating a cohesive customer experience. Additionally, use interactive features like personalised messaging, surveys and quizzes to capture your customers' attention and keep them engaged. Incorporating interactive features into your digital signage will help create a memorable experience for your customers and drive engagement. Finally, use strategic placement of digital signage to draw attention to your business, creating an opportunity to increase visibility and create brand awareness.
Interactive digital signage solutions offer a powerful way to bring your business to life, capture customers' attention and create meaningful customer engagement. With the right strategies and tactics, your digital signage will be more effective and help your business stand out from the competition.
Cost Considerations for Digital Signage
When considering the cost of digital signage, it is important to look at the total cost of ownership. This includes not just the purchase price of the digital signage hardware, but also the cost of installation, ongoing maintenance, content creation and other associated costs. The cost of digital signage will vary depending on the size, complexity and features of the system. A basic system may only cost a few hundred dollars, while a more advanced system with interactive features and multiple displays may cost several thousand. It is important to weigh the cost of the system against the potential benefits it can offer.
When calculating the total cost of ownership, there are several other factors to consider. Is the system easy to use and maintain? Will the content need to be updated regularly? Will it require additional hardware or software? What kind of support is available? Answering these questions can help you determine what the true cost of ownership is for digital signage and how it can help your business. By taking into account all of the associated costs, you can make an informed decision about whether or not digital signage is an appropriate solution for your business.
We have supplied solutions ranging from a simple digital signage screen to a large scale digital signage network and the price range and no project is too small or large for us. So, if you are looking to increase your customer engagement and brand recognition, consider integrating digital signage solutions into your business and contact us today!