Did you know that your medical centre is missing out on a huge opportunity to increase revenue and the number of patients? If you are running a medical centre, you probably already know this but standing out from your competitors is getting harder every day, especially with new technological innovations and the rapid advancement of technology. One thing you may not have considered for your medical centre is to display dynamic content on digital screens. If you have a reception area with patients waiting, then there is an opportunity to engage with these visitors by showing medical information and obtaining feedback from them before and after their appointment.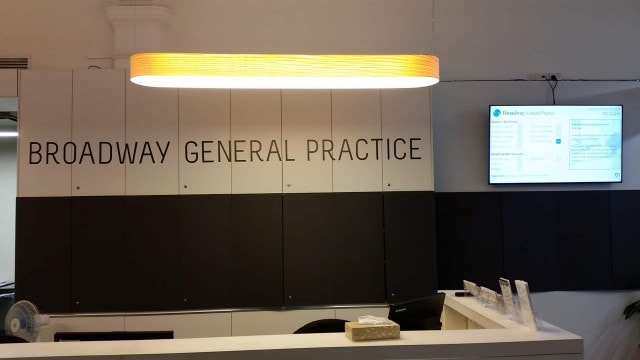 Digital signage can offer a number of benefits to medical centres. By using digital signage, medical centres can effectively communicate with patients and staff, provide wayfinding assistance, and promote a sense of community. Digital signage is an effective way to communicate with patients and staff at medical centres. It can be used to provide information about services and facilities, promote health and safety messages, and advertise special events or services. Digital signage is a versatile and cost-effective way to improve communication at medical centres and offers more benefits than traditional signage in a more interactive way. Digital signs are an effective way to communicate with the people attending a medical centre as they create a unique atmosphere and provide patient information when and where it is needed and is used to replace static posters. Digital signage can also help medical centres to be more energy-efficient and reduce their carbon footprint. Dynamic content in medical centres could help to reduce waiting times and increase patient satisfaction. By having digital posters that are constantly updated with information on the latest treatments and procedures, patients would be able to make more informed decisions about their medical care.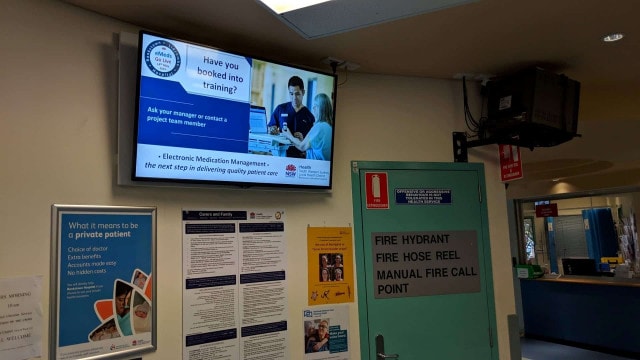 There are many reasons to use digital signage at medical centres. One reason is that digital signage can help direct patients to the right location with the use of digital wayfinding or directional wayfinding. This is especially helpful for new patients or patients who are not familiar with the medical centre. Additionally, digital signage can provide information about the medical centre, such as its hours of operation, services offered, and contact information. This can be helpful for both patients and visitors who are simply waiting to be served. When combined with our Social Wall solution, content from your medical centre's social media posts can be automatically displayed on the screens and can be used to promote the social media accounts. Another reason to use digital signage at medical centres is to promote healthy behaviours. For example, digital signage can be used to display video messages about hand-washing, getting the flu vaccine, and staying home when sick. These messages can help to reduce the spread of illness and keep patients and staff healthy, especially during the COVID and flu periods.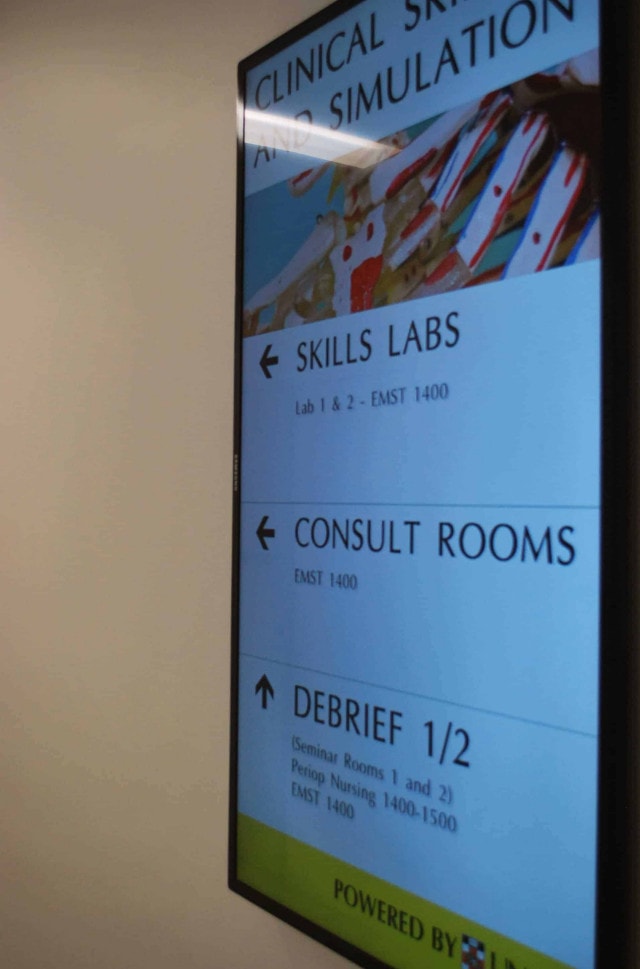 For busy medical centres, your patients may get frustrated if they are not being served on time or if they are not provided with the right information. This is where our interactive digital signage solution will help your centre. We can set up interactive kiosks for queue management, digital screens to display queuing information and even staff rosters. No longer will your patients feel like they are being left out of the communication loop. We can provide a complete digital signage solution that is affordable, effective and more importantly get your name out there to new and existing customers in your area.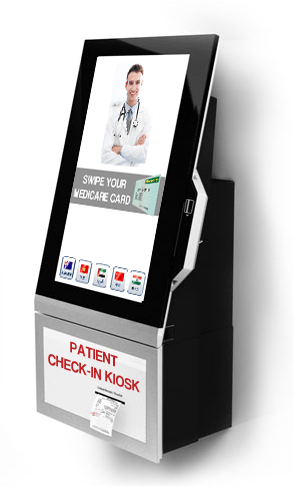 Our digital signage software solution can include the Staff roster module. This will allow your medical centre to display your doctor's staff list and whether they are in or out based on a roster system. In addition, the Staff roster module can display the wait times as well so if the doctor is running late it can display this information on the digital screen. This will at least give some indication to the patients about how long they may need to wait to see the doctor and whether they are on time. Some healthcare facilities require staff rosters to be printed on paper, while others require them to be displayed on digital displays. How you display your staff rosters could depend on the type of facility where you work.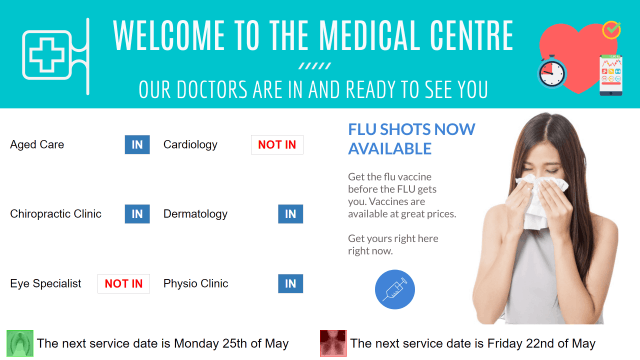 There are many benefits of using digital signage at medical centres. By using digital signage, medical centres can easily and quickly communicate important information to patients and staff. Digital signage can also be used to promote healthy living initiatives and provide educational information about medical conditions and treatments. Additionally, digital signage can help to create a more relaxing and inviting environment for patients and their families. Digital signage is a great way to display medical information. It is easy to read and can be updated regularly with the latest information.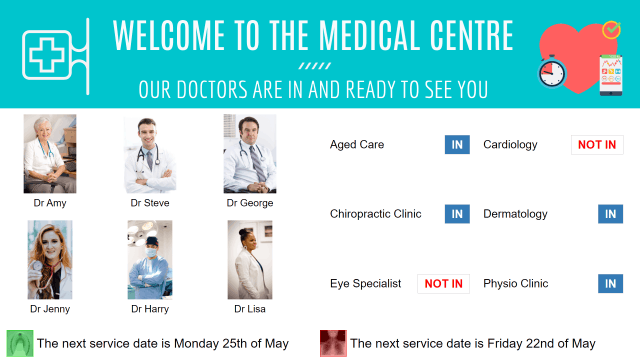 In summary, here are some examples of how digital signage can be used in medical centres:
displaying waiting times for different departments and doctors
providing information on health and safety
directing patients to the correct departments and rooms
promoting health and wellbeing initiatives
displaying messages from staff and government health institutions
providing entertainment for patients and visitors
Digital signage can play a vital function in your medical centre. A digital signage solution can improve your staff's ability to focus on patient care, while also improving your overall medical centre appearance. Digital signage is an important way to communicate with patients, staff, and visitors in medical, healthcare practices and hospital buildings. By using digital signage, medical centres and hospitals can provide information about the facility, services, and events happening in the building. Additionally, digital signage can be used to advertise for the medical centre and hospital, inform patients about their rights and responsibilities, and provide directions to various parts of the building by using digital wayfinding.
Our digital signage solution also works across different medical practices such as physiotherapists, dentists, chiropractors, nursing homes, imaging and radiology centres. If you're looking for a top-quality digital signage software solution for your medical centre, look no further than our Advertise Me TV! Our digital signage software is designed to help you easily and effectively communicate with your patients and staff and can be customized to fit your specific needs. Plus, our team of experts are always here to help you get the most out of your investment.