Digital Signage plays an important role in any corporate environment. For a corporate entity, their main aim is to inform, entertain and engage their employees, visitors and customers with information about their company through the use of digital signage technology.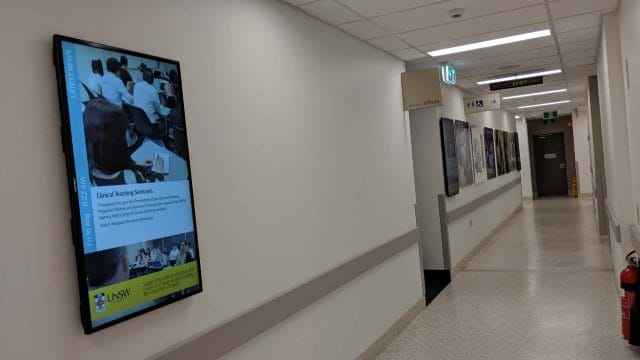 The Benefits
Digital Signage simply works! It has been proven successful in many corporate organisations all over the world. If your business wants to get noticed while maximising results by creating awareness of your business objectives and goals, then digital signage is the answer.
Here's a short list of benefits from using Digital Signage in a corporate environment or even a small business.
Distribute a consistent message quickly and effectively to a captivated audience (eg. latest news). This can also be done remotely from the head office or even if you're working from home.
Dynamically update the content efficiently in real-time (eg. stock prices, social wall content)
Keep employees and visitors up to date on critical company updates or alerts (eg. company's performance, fire alerts)
Increase employee satisfaction and recognition by acknowledging employee achievements (eg. top performers)
Save money by eliminating printed material that most people disregard anyway! (eg. up-coming events)
Improve the communication workflow by displaying information where it matters most – at key locations in the office building
Where to use digital signage
For a corporate organisation, digital signage can be best utilised in locations where employees or visitors are waiting or walking past a common area. Examples of where to strategically place the digital signage screens are:
Elevators
Digital signage units can be installed within and/or outside elevators to display information such as company updates, directories, digital wayfinding, emergency alerts, advertisements, weather or stock price. Digital signage in elevators is effective because you already have a captive audience, an audience who is waiting to be engaged.

Reception or Foyers
These locations will be an ideal place to have digital signage as most visitors and employees will have to pass through these areas. The use of digital signage can include:
a welcome message in different languages for the local community or greeting overseas clients
a bulletin board displaying training and meeting information, upcoming business events (Sales Conferences, Fire drills, Picnic Day, Christmas Party)
a visitor's guide such as a floor plan
a display of corporate headlines (share prices, new product launches, project or company milestones)
recognising employee achievements (an employee of the month, congratulating groups or individuals, happy birthdays, 10 year anniversary with the business)
or basically any type of business-related information that employees or visitors would need to know or want to see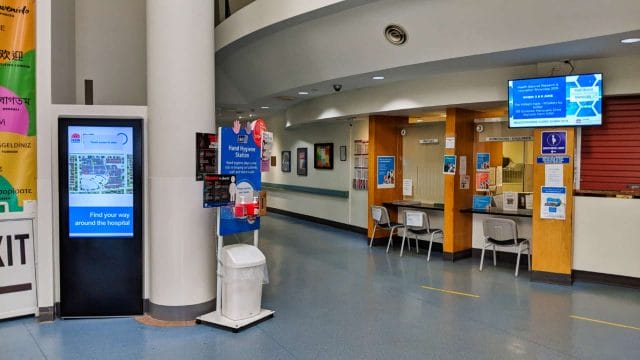 Call centres
Most call centres have an independent queuing system attached to LED boards hanging from the ceiling. With the integration of digital signage, you are not limited to what you present. Digital Signage will allow you to display:
call traffic status
emergency alerts eg. terrorist attack
employee recognition eg. top achiever
information about upcoming events eg. Social Club event
general information eg. weather, news headlines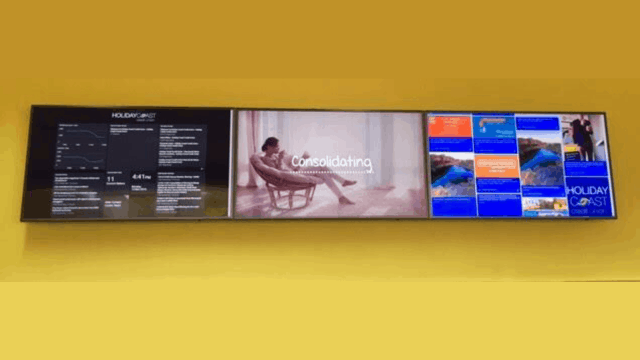 Cafeterias, Kitchen's or Bathrooms
These are some of the most visited locations which are ideal for digital signage because you have a stationary audience. Digital signage in bathrooms is also now becoming more popular with the introduction of digital signage mirror technology. With this technology, you will be able to provide information to employees and visitors when they look at the mirror.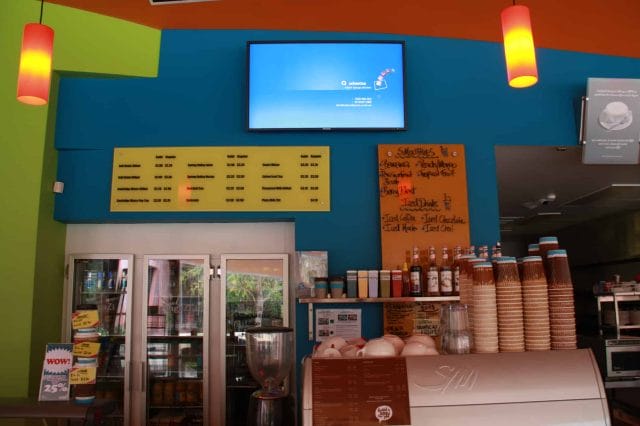 With over a decade of experience in the digital signage industry, Advertise Me aims to help you introduce innovative ways for your corporate environment.