As healthcare technology advances, the demand for digital signage in general practice medical surgeries and medical boards is increasing. Digital signage can improve communication with patients and provide information about healthcare providers and their services. Additionally, it offers cost-effective and secure ways to enhance healthcare experiences. A doctor directory medical board for digital signage can be a valuable tool for medical centres as it keeps patients informed with the latest patient interaction technologies while ensuring privacy and safety. With our digital signage software solution, we can provide easy access to doctor profiles, appointments, and other helpful information, making it a convenient resource for both healthcare providers and patients. By simplifying communication processes, it can save time and money for everyone involved.
THE IMPORTANCE OF DIGITAL SIGNAGE IN HEALTHCARE
Digital signage is proving to be extremely useful for healthcare organisations. It enables them to improve patient safety, promote better communication between medical professionals and patients, and provide easy access to important information. This technology is being used in various medical facilities like hospitals, clinics, and general practice medical centres to disseminate knowledge to both staff members and patients.
Digital signage has a wide range of potential applications in healthcare settings. Hospital screens, for example, can be used to display visiting hours as well as provide digital wayfinding in hospitals. These screens can also flag potential hazards and direct people to their destination using smart directional boards. Health-related advertisements can be included as well. Such benefits would be helpful not only for patients but also for visitors. Additionally, there are advantages to providing educational material about certain illnesses or treatments via digital signage. Promoting hospital events is another use for these screens and we can use our news and events module to display this. These screens can also be used to display opening times and provide advice on healthy lifestyle choices. Accuracy is crucial in this context.
Digital signage is a useful tool for hospitals to enhance their work environment. It enables medical professionals to focus on their patients instead of getting bogged down with paperwork or answering phone calls from concerned relatives. Moreover, it promotes quick communication amongst the medical staff regarding essential updates related to patient care without the need for direct contact, which could potentially spread germs throughout the facility. Considering these benefits, it's worthwhile to consider implementing digital signage in your hospital or medical centre as a way to streamline processes and ensure everyone's health and safety.
What's more, these signs can help save on admin costs by enabling staff to easily answer requests for information about treatment plans without having to constantly churn out stacks of documents. Wouldn't it be great if all that was required were a couple of informative signboards?
Did you know that digital signage can be used beyond hospitals? One example is the Doctors Directory Medical Boards. These are digital boards that display current information about doctors' availability, making it easier for people to know which doctors are available for them. This is not only useful for individuals in need of medical attention, but it also increases visibility for physicians listed on these boards. Passersby in public places like shopping centres can easily see the doctor's names and services offered. Additionally, some medical centres offer allied health services, including dieticians, foot and ankle clinics, physiotherapists, chiropractors, and even dentists.
A doctor's directory for medical boards is a digital signage module that health professionals use to showcase their professional profiles and indicate their availability status on a digital board. These boards are placed at various locations across the medical centre or hospital, particularly in waiting areas like the reception counter. In addition to displaying doctors' qualifications and specialties, the boards can be updated in real-time. This system also helps medical boards keep accurate and up-to-date schedules of all registered doctors.
By joining together digital signage with a doctor's catalogue service on medical boards, doctors will be capable of managing their assets better while providing more accurate data related to available treatments and facilities all along; consequently increasing total effectiveness inside healthcare systems across diverse regions or countries altogether! What's even greater – with this kind of technology we're seeing true progress being made in making modern medicine easier for everyone.
ROLE OF DIGITAL SIGNAGE IN EFFECTIVE PATIENT COMMUNICATION
In the healthcare industry, digital signage is becoming increasingly popular as it offers an easy way to communicate with patients. Hospitals are using digital boards and kiosks to quickly display crucial information like appointment schedules, patient forms, and wait times. Additionally, these digital signs can be used to inform patients about new treatments or procedures that the hospital offers. They also serve as a platform to promote special deals and events happening at the hospital or clinic. It's wonderful to have a simple and effective solution like digital signage to keep people well-informed.
The use of digital signage technology in medical facilities is growing in popularity. Doctors and healthcare professionals are utilising it as a communication tool for their patients. Digital sign boards offer an efficient means for both healthcare providers and patients to access up-to-date information quickly, without having to consult multiple sources. This not only saves time but also guarantees accuracy, as the information provided comes directly from qualified medical staff who work with each patient's individual case.
By using medical boards for digital signage, doctors can help their patients stay informed about any changes that may impact their care. These medical boards also offer a quick and easy way to display important information to patients. This kind of open communication fosters trust between doctor and patient, ensuring that proper communication processes are adhered to and followed. Moreover, having a one-stop shop for healthcare services provides people with peace of mind, as they know everything is being handled correctly at every stage. This encourages complete confidence in the outcome without unnecessary worrying over details or unforeseen circumstances.
Using Doctors Directory Medical Boards for digital signage can provide an added layer of security for sensitive health matters, making them an ideal choice for medical facilities and doctor's offices where privacy is a top concern for both staff and patients. In addition to displaying important information such as wait times and appointment scheduling, these digital boards can also showcase the awards, skills, and qualifications of individual doctors, giving potential patients peace of mind when selecting a physician. Furthermore, these communication tools allow doctors to maximise their advertising budgets by targeting specific demographics with relevant messages.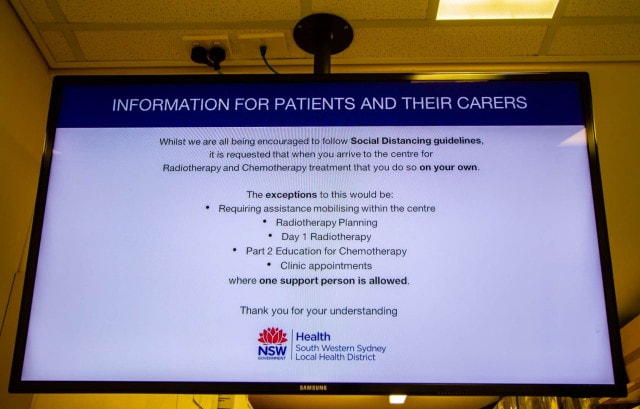 REVOLUTIONISING HEALTHCARE WITH MODERN DOCTOR DIRECTORIES
Digital technology has transformed healthcare, offering benefits like improved patient interactions and innovative treatment methods. Doctor directories and medical boards on digital signage platforms provide up-to-date information about healthcare professionals in a specific area, simplifying operations and keeping you informed of the latest developments.
Patients can easily locate the healthcare provider they need by viewing their contact information, room location, specialisations, qualifications, and other relevant details on a large screen or touchscreen kiosk. This not only lessens wait times but also enhances the patient's overall experience when visiting a general practice medical centre or private clinic. Moreover, these display boards can be used for marketing campaigns and promotional offers by healthcare organisations like hospitals and pharmacies, making it a win-win situation.
Doctor directories and medical boards are highly versatile resources that can be displayed on any suitable device, such as a reception area or corridor in large organisations like universities or corporate buildings. This ensures that important information is always easily accessible when needed the most. Additionally, these resources provide an effective way for healthcare professionals to stay updated with the latest developments in their field.
BENEFITS OF INTEGRATING DIGITAL SIGNAGE INTO MEDICAL BOARDS
With the advancement of technology, healthcare organisations are increasingly adopting digital signage for medical boards. This cost-effective solution allows for easy display of promotion of services, and encouragement of healthy lifestyle choices. Additionally, it can be used to educate patients on common ailments and treatment options, granting them instant access to a wealth of information.
Medical boards can greatly benefit from the integration of digital signage. One of its advantages is that it makes vital information easily visible to both doctors and patients, which is crucial in the healthcare process. Furthermore, patient data accuracy and consistency also improve with digital signage integration. The use of interactive displays also improves customer satisfaction and provides higher safety measures for staff members, as manual updates are no longer needed. Additionally, waiting times decrease significantly, eliminating the need for paper listings and tedious manual updating processes. Finally, the costs associated with similar procedures are also reduced. Overall, the integration of digital signage benefits everyone involved.
Hospitals and clinics can effectively use digital signage to keep their boards up-to-date with vital information such as changes in provider schedules, policy updates, new procedures, or offers from local businesses. The use of digital signs eliminates the need to print posters or manually update the board every time there is a change, making it easier for both physicians and patients to access this information quickly. The multimedia feature of digital signs, such as videos and images, enhances the understanding of important messages, making it easier to comprehend than if just text was used.
By integrating digital signage into medical boards, all the important information is always up-to-date, ensuring that doctors can access reliable data without worrying about outdated information. This feature is handy because it eliminates the possibility of missing out on old postings due to mistakes. Furthermore, it ensures uniformity of information throughout all areas where the same board is shown, regardless of location. This feature is particularly helpful since different guidelines by independent practices can cause difficulties when physically altering boards individually at every location.
Additional features of digital signs include better brand recognition, as they make it possible to incorporate logos and other visuals representing the practice directly onto the screen. This feature might not be achievable with traditional board displays, depending on their size, shape, and materials used. This feature helps build an identity among existing patients and advertises services to potential clients who may spot these displays in public areas such as lobbies or waiting rooms. Customers may feel reassured knowing that their doctor's office is embracing modern technologies like digital signs, thus boosting total customer satisfaction levels at your practice.
IMPROVING PATIENT EXPERIENCE THROUGH DIGITAL DOCTOR DIRECTORIES
Digital signage has been gathering lots of interest in the healthcare sector for its potential to enhance patient experience. There are various ways it can do so, ranging from showing informative material about treatments and services to providing a convenient way for patients to get hold of doctors' contact info. A really effective tool that digital signage offers here is doctor directories – medical boards that make quick access possible to docs' contact details. Quite apart from this though, one wonders what else these systems provide. Are they secure enough? And how user-friendly would such an interface be if we did use them on a daily basis?
Doctor directories make life a whole lot easier for patients. They enable them to quickly search through and identify available doctors, as well as view their contact information such as telephone numbers or email addresses – making it so much simpler to get hold of your doctor, arrange an appointment with them or whatever else you might need! Doctor directories are also incredibly useful for hospitals and medical facilities because they give the staff there an easy way of monitoring who's around at any given time; enabling everyone to plan appointments more effectively & efficiently. Have you ever used a directory like this?
The use of doctor directories on digital signage can bring several advantages. For example, they're much easier to update than traditional paper-based boards, which means the information displayed is always current and up-to-date for hospital staff and visitors alike. Moreover, these displays give hospitals greater flexibility; emergency announcements or deals can be broadcasted in real-time so that everyone is kept informed at all times.
Furthermore, such signs are highly customisable according to each clinic's own requirements – this makes them intuitively navigable both for patients trying to find their way around a facility as well as helping streamline internal operations between different departments. Digital signage also gives clinicians more opportunity to build better relationships with customers by displaying interactive messaging related to specifically relevant topics like treatments provided within certain areas of expertise – ensuring all patient needs are catered for from start to finish!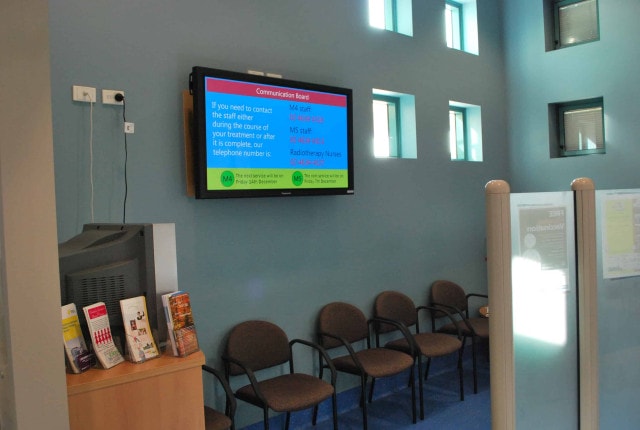 HOW MEDICAL BOARDS UTILISE DIGITAL SIGNAGE FOR EFFICIENCY
Digital signage is being used by medical boards to improve their efficiency, communication, and patient involvement. These signs can be used to display medical information, promote services, and give real-time notifications to visitors. They also allow medical boards to keep track of patient data and communicate effectively with healthcare personnel.
One common use of digital signs in medical boards is to provide information about the board's operations and events. This includes current announcements, upcoming events, or anything relevant to the board's mission.
Digital signs are a game changer for medical practices. They provide quick access to information for doctors, saving time that would otherwise be spent searching through paperwork or websites. In addition, changes can be easily made without having to reprint materials. Patients also benefit from digital signage, as interactive discharge instructions and health education materials can be easily accessed.
By using digital signage, patients can make better decisions about their treatment and become more engaged in the organisation's mission. The signs also serve as reminders for appointments, ensuring that everyone is seen on time and can follow doctor's orders properly. Analytics provided by digital signage systems allows medical boards to identify areas needing improvement and implement changes to enhance patient experiences.
Digital signage is a valuable tool for medical boards to upgrade their operations and enhance patient care.
SUCCESSFUL IMPLEMENTATION OF DIGITAL SIGNAGE IN MEDICAL CENTRES
Healthcare organisations are increasingly turning to digital signage to improve their cost-effectiveness and efficiency. This tool allows medical professionals to provide up-to-date patient care information and access real-time data, which has resulted in better customer service, operational processes, and patient care. One of the most recent implementations of digital signage we completed was for Advance Medical Practice which used our staff roster module to display which doctors and allied health services were IN/OUT. You can read more about this case study here: