Advertising and passing on of information has come a long way and the methods that are currently available to enhance the ability to display information or advertise a particular product is now countless. When we talk about information display, there are numerous venues where one would be see information being displayed. Like a shop's billboard displaying its latest offers or a hospital conveying the services that it provides.
Digital Signage
One of the most common technology of information display in the current era is digital signs. The devices used for digital signage are LED, LCD, plasma or projected image screens, touchscreens, and these are used to display information to viewers. The use of digital signs is now more common and one gets to see such signs in many venues and locations such as hotels, retail stores, road side display for builder companies, schools, hospitals etc.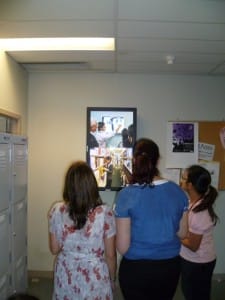 Digital Signage Hospitals
The trend of using digital signs and displays in hospitals has increased tremendously and certain studies have proved that out of a group of four patients, three of them found the information displayed via digital signs to be more understandable and it also helped improve their hospital experience. The experience of viewing information on a digital display not only is creative and interesting to watch but it also succeeds in grasping the attention of patients and reinforcing the message that the hospitals wish to provide.
In the same study, it was also found out that almost 75% of the patients and visitors who took part in the related survey were able to recall from memory, at least one of the message or information that was displayed. This clearly measures the effectiveness in engaging patients and helping the brand name of the hospital to reach out to them.
The type of information usually displayed on a digital sign would be messages that have been branded by the hospital, general health-related news, health tips, health-related disclaimer warnings like tobacco or alcohol usage, general hygiene, etc. The ultimate purpose of digital signs would be to educate patients or market a hospital's brand name.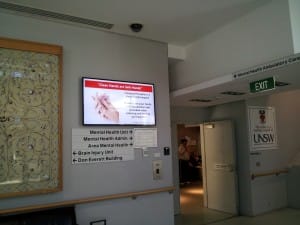 The introduction of digital signage in hospitals has also helped in bringing out better communication with patients, which in turn brings patients and hospitals closer, which then leads to the evolution of better healthcare processes and standards. Studies also suggest that patients seem to trust the information provided on digital signs more than any other media. This sort of change has also helped the digital signage technology to boom in its own industry and stay well-distinguished from other media such as TV and social networks.
It's everywhere now! With the upcoming of the digital era, the developments made in digital signage technology is ever increasing too, opening new possibilities and techniques in the industry of marketing and passing of information. 
Over the years, Advertise has been installing digital signage solutions across a number of Hospital in Australia and have also educated hospitals on how to use this medium for advertising purposes to recoup the initial investment.