Over the years, we have helped the healthcare industry by supplying our cloud based digital signage software for medical centres, dental centres and hospitals. Digital signage is a sub-segment of the signage industry that refers to the use of electronic displays to show messages, advertisements, and other information such as doctors' and staff rosters. They are usually found in public places such as retail stores, transportation hubs, and offices, but are increasingly being used in medical waiting rooms.
Digital signage is a type of communication that uses electronic displays such as LED screens, projectors, and interactive touchscreens, to deliver information. It can be used for informational or advertising purposes, and it replaces the traditional use of printed posters.
What are the benefits of digital signage?
Digital signage comes with a number of potential benefits, both for businesses and customers. When used in a waiting room, for example, digital signage can provide patients with up-to-date information on wait times, directions, and other important information. Digital signage can also be used to display advertising or marketing content, which can help to promote products and services to patients while they wait.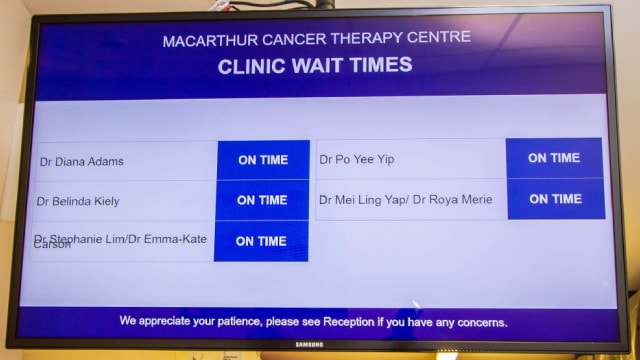 Another benefit of digital signage is that it can be used to manage queues and waiting times more effectively. By displaying real-time information on wait times and available services, businesses can help customers to make more informed decisions about how to spend their time while they wait. This can lead to improved customer satisfaction and reduced frustration levels.
How to Use Digital Signage in Medical Waiting Rooms
Digital signage can be used in a number of ways in medical waiting rooms. It can be used to provide patients with information about their wait times, the doctors who are seeing them, and the services that are available at the facility. It can also be used to entertain patients and provide a distraction from their wait.
Use content to inform and entertain
Digital signage in medical waiting rooms can be a great way to inform and entertain patients and their families. Use content that is relevant to your patients and their needs, such as wait times, safety information, or even fun games and trivia. Keep the content fresh and updated regularly to keep your patients engaged.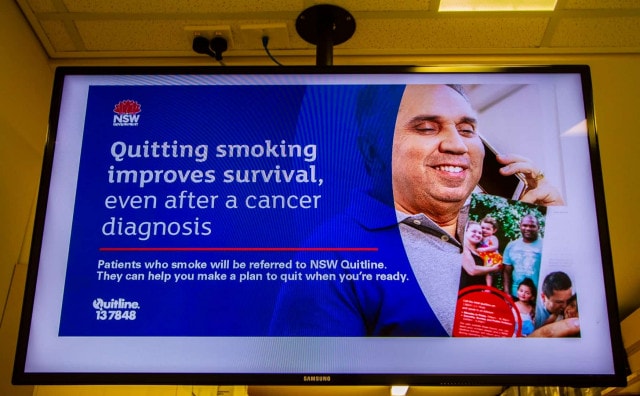 Use wayfinding features to help patients navigate
Digital signage can be a helpful wayfinding tool in medical waiting rooms. Place signs near the entrance to help patients find their way, and use arrow or other directional graphics to point the way to different areas of the waiting room. You can also use digital signage to display a map of the facility so that patients can orient themselves and find their way to their destination more easily.
Use interactive features to engage patients
Digital signage can do more than just display content, it can be interactive, too. By adding interactive features to your waiting room digital signage, you can engage patients and help pass the time. Here are a few ideas:
-Wayfinding: Use digital wayfinding solutions to include interactive wayfinding features on your digital signage so patients can easily find their way around your facility.
-Patient Forms: Use interactive digital signage to display fillable forms that patients can complete before their appointment by using kiosk solutions
-Health Information: Provide patients with educational content on conditions, treatments, and healthy living
– Use check-in solutions to speed up the process of providing the medical centre the medicare number and other patient information
– Social Media: display your social media posts by using Social Wall and engage with patients and visitors through social media platforms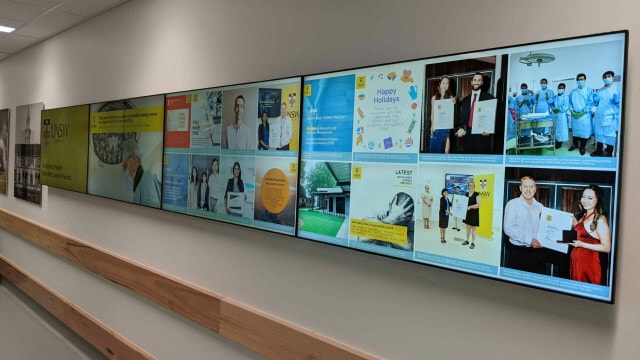 Advertise Me UNSW Medicine Health South West Sydney Precinct 4×1 Video Wall 3
When used effectively, digital signage can improve the patient experience in medical waiting rooms. Be sure to take advantage of interactive features to engage patients and make the most of your investment.
Best Practices for Digital Signage in Medical Waiting Rooms
As the medical industry becomes more competitive, medical waiting rooms are looking for ways to stand out. One way to do this is through the use of digital signage. Digital signage can help waiting rooms look more modern and can provide patients with helpful information. However, there are a few best practices to keep in mind when using digital signage in medical waiting rooms.
Keep content updated and relevant
Content for medical waiting room digital signage should be updated regularly to ensure that it remains relevant. With our solution, we grab articles, news or other information from the business website to the digital signage screens or vice versa. Relevant content might include wait times, changes in clinic hours or appointments, or educational information about the conditions being treated at the facility. By keeping content updated, medical waiting room digital signage can help to reduce patient frustration and improve the overall experience.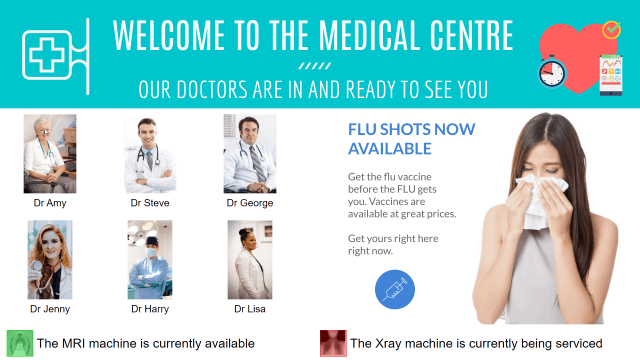 Use high-quality visuals
When you're trying to capture the attention of people who are already feeling some anxiety, it's important to use high-quality visuals. No one wants to see a pixelated image or a video that's choppy. You want your content to be as sharp and clear as possible.
There are a few things you can do to make sure your visuals are high quality:
– Use high-resolution images and videos
– Make sure your images and videos are properly formatted for the aspect ratio of your screen. For example, if you're using a Full HD digital signage screen, then your content should match the native resolution of the screen which is 1920×1080. To work out what the resolution of your device is use this website WHAT IS MY SCREEN RESOLUTION?
– Depending on the environment do not use looped audio as this can be distracting and annoying for the patients
If you want to use video content, consider creating top-notch professional videos for your waiting room and we can even help you with this.
Use clear and concise messaging
Digital signage in medical waiting rooms can be a great way to inform and entertain patients and visitors. However, it's important to use clear and concise messaging that is appropriate for the healthcare setting.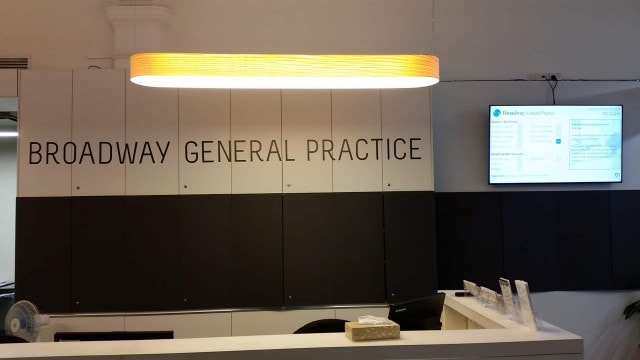 Here are some tips for creating effective digital signage content for medical waiting rooms:
– Keep messages short and to the point. Patients and visitors are likely to have a short attention span while they are waiting, so make sure your messages are clear and concise.
– Use simple language. Avoid using jargon or technical terms that patients and visitors may not understand. In many cases, there will be medical terms you will have to use
– Use images and graphics wisely. Images and graphics can help to break up text and make messages more visually appealing. However, make sure that any images you use are appropriate for a healthcare setting.
– Avoid using audio. Audio can be a distraction in a medical waiting room, so it's best to avoid using it altogether. If you do need to use audio, keep it at a low volume so that it doesn't disturb other patients and visitors.
Our Digital Signage Software Solution
Our digital signage software solution is called AdvertiseMe.TV is a cloud-based software to help you manage and distribute your digital signage content. We have built this digital signage tool because we realised our clients needed simplicity and customisations.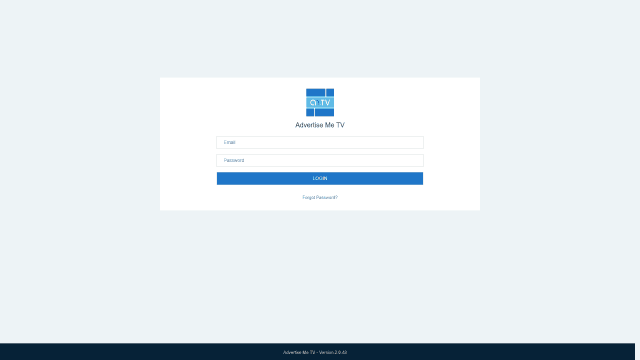 One of the easiest features we built into this tool is called Play from the folder where you can just upload your content to a specific folder in your media library and our system will automatically play everything that is in these folders. With this feature, the content managers can quickly and easily distribute the content across all the screens or just groups of screens. The main goal is to improve patient communication whilst they are waiting in the reception area. Digital signage can be used to provide waiting room entertainment, display important information such as updated clinic hours or changes to the schedule, and even deliver targeted advertising for local businesses that may be of interest to your patients. Additionally, digital signage can be used to create a more relaxing and comfortable environment in your waiting area.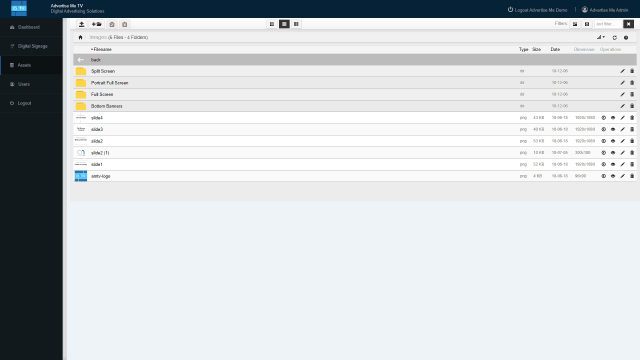 Digital signage can be used in a variety of ways to promote healthy behaviours. For example, signage can be used to:
-Display health and safety information
-Provide reminders about good handwashing practices
-Encourage physical activity
-Promote healthy eating habits especially post COVID
– remind people to get their flu vaccine
Digital signage can play a key role in communicating with staff in a medical centre. They can be used to provide updates on centre activities, share news and alerts, and give directions and guidance. Overall, digital signage can help reduce the need for printed materials and save on costs. They can also be used to support green initiatives by reducing the need for paper.
Digital signage can be used to improve wayfinding in a medical centre by providing clear and concise directions to patients and visitors. signage can be placed in strategic locations throughout the medical centre, such as near elevators and escalators, to guide visitors to their destination.
Digital signage can play a role in medical centres becoming more sustainable. For example, displays can be used to:
– Provide patients and visitors with information on sustainable initiatives at the medical centre, such as recycling and energy-saving tips.
– Promote sustainable transport options to medical centre staff, patients and visitors, such as public transport, carpooling or cycling.
– Display real-time data on the medical centre's energy usage or water consumption.
– Run campaigns to encourage staff, patients and visitors to adopt sustainable practices.
– Educate staff, patients and visitors about the importance of sustainability.
Digital signage can be a powerful tool for engaging people in sustainable practices and helping to create a more sustainable medical centre.
Digital signage can play a key role in emergency communications by providing accurate and up-to-date information to patients, staff, and visitors. In the event of a power outage or other emergency, digital signage can be used to provide critical updates and instructions. For example, digital signage can be used to provide directions to the nearest exit, or to announce changes in operating hours.