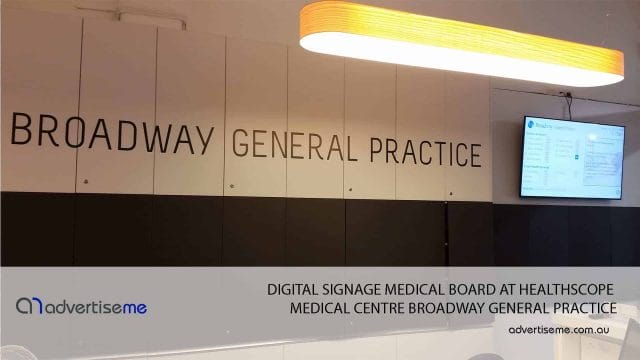 Hate waiting? Medical Centres are a prime location where people are simply just waiting. So how do you keep your patients informed, engaged and entertained? Digital Signage Medical Boards is the answer and this is what Healthscope Medical Centre in Broadway General Practice decided to do.
Healthscope is a leading private healthcare provider in Australia with 46 hospitals and 53 medical centres including skin clinics and a specialist breast clinic.

THE REQUIREMENTS
Display and manage which doctors or departments are available on that day
Quickly and easily add important announcements
Ability to change information on the screens from the office, home or remotely
THE SOLUTION
We supplied the client with a Samsung 55″ LED Commercial Grade screen and used the SoC (system on a chip) internal medial player to display the content via the Internet. We built a custom application for the screen to communicate with our online platform called AdvertiseMe.TV. This meant the office manager was able to schedule and manage the content on the screen in the office or at home. All they needed to do was login to the dashboard, make the changes and click on save.
Here's an example of the AdvertiseMe.TV dashboard. The practice manager is able to add a profile of the doctor, change the name, title, occupation and select which days the doctor is in by selecting a date in a calendar view.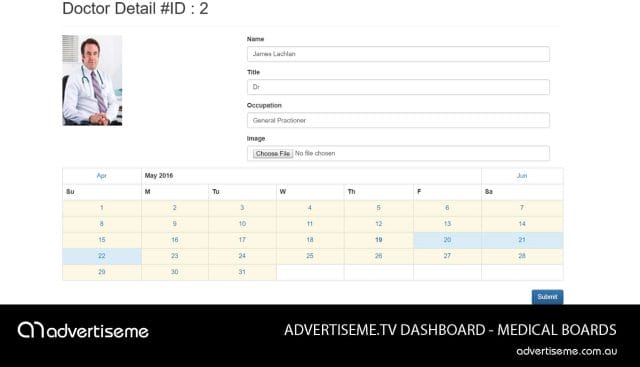 The Doctors Directory in the dashboard allows the practice manager to quickly add, edit, remove doctors from the list: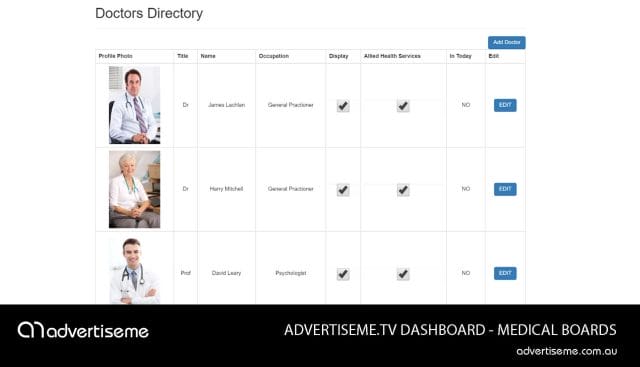 Updates and announcements can be easily updated by simply changing the text and pressing the update button.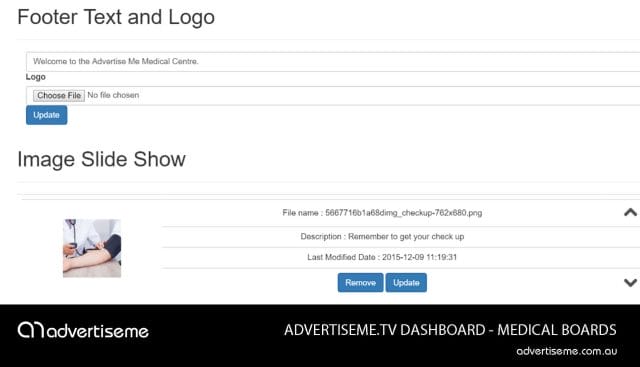 And here's an example of how the Digital Medical Board looks like (example doctors were used in this example):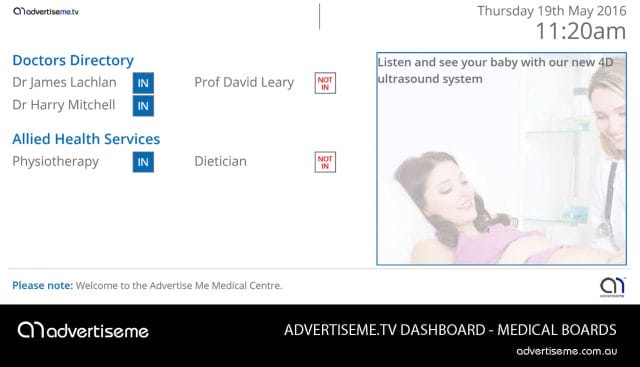 For the client, the screen displayed the date and time, a doctors directory which included whether the service department is open, marketing collateral (such as promoting their Mobile Application) and important announcements.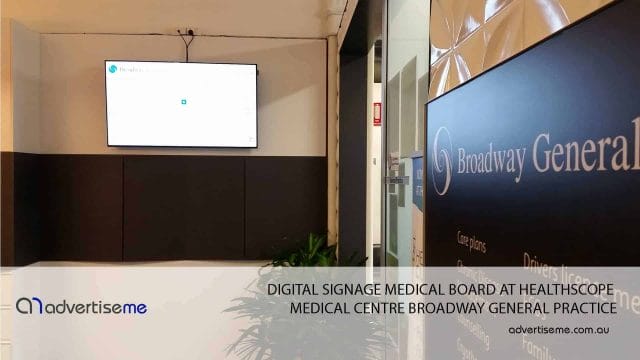 With our AdvertiseMe.TV platform, we will build you a solution catered to your requirements – we will not include any extra features that you will never use… it's that simple. We build it the way you need it.