Advertise Me was recently engaged by LJ Hooker in Eastwood NSW Australia to implement a Digital Signage Video wall. Here's the case study:
The requirements
The main requirements were to:
Install a video wall to display real estate properties and staff profiles
Replace static listings with dynamic content
Minimise the effort required to update information on the video wall
The solution
The solution included the following hardware:
x4 40″ LCD Ultra Slim Samsung Screens
x2 Stainless Steel Poles
x1 Digital Signage Shuttle Player
x1 HDMI Splitter
Various cables (HDMI, Serial, CAT6)
Integration with the LJ Hooker E2 system
The video wall was chosen as a strategic marketing decision to attract more customers to look at the amazing screens and their property listing. By using the Ultra Slim Samsung screens the video wall definitely attracted the attention to people passing by. Within a few minutes of turning on the system, people actually noticed the screen and stopped. The owner made a comment that this was the first time he saw that many people stop at the front of his office window.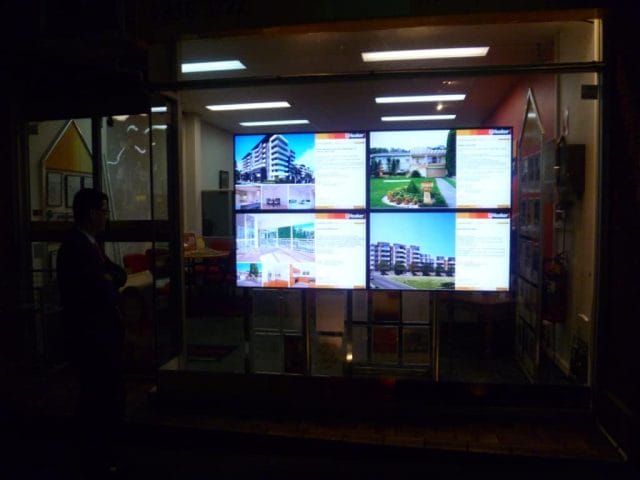 Advertise Me is a digital advertising solutions company and developed an in-house solution to integrate the LJ Hooker's E2 system with their digital signage software. This meant that there was no effort required from staff when updating the listing on the screens as this was managed all via the LJ Hooker E2 system. The screens are used to display 4 property listings and then switches to display a real estate agent's profile with the properties they manage. As an added feature, Advertise Me developed a plugin to display the real estate properties on a Google Map and also developed a custom RSS content creator for the real estate agents to quickly and easily display messages on their profile page.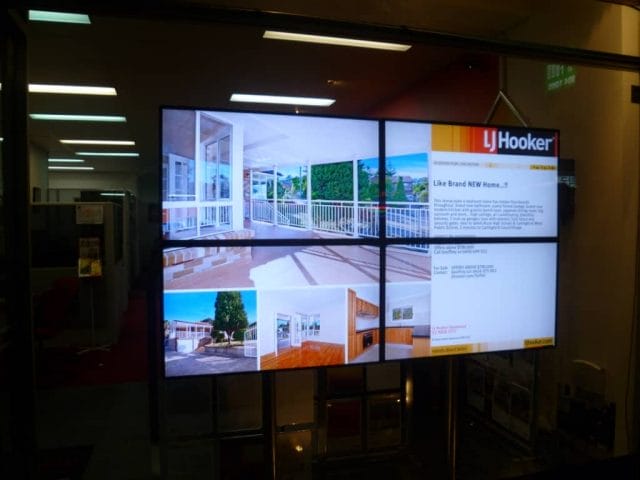 Advertise Me is looking at expanding this solution to other real estate agencies next year. They will be also launching their Real Estate SMS solution which is currently being trialled by a Real Estate agency in Sydney, so it looks like it will be a busy year for Advertise Me.
About LJ Hooker
Since 1928. Bringing people and property together. Nobody does it better.

Over the past 82 years, LJ Hooker has become Australia's best known and most trusted real estate brand. With a franchise network 650 offices strong across Australasia, LJ Hooker sells more than 40,000 properties each year worth over AUD15 billion. We have one of the largest residential sales teams in the industry comprising over 3000 sales professionals backed up by over 2000 support team members.

LJ Hooker is one of the largest property managers in the region, managing approximately 120,000 properties valued at over AUD50 billion generating AUD1.5 billion in rental income each year. Our 1200 property management experts are the best in the industry when it comes to renting or managing investment properties.

LJ Hooker provides a full suite of commercial services with national coverage in Australia and New Zealand including buying, selling, leasing properties for commercial or investment purposes. LJ Hooker has 23 commercial offices supported by 150 commercial experts across the office, retail and industrial sectors. This includes dedicated offices for project marketing and land marketing.

LJ Hooker also has 40 dedicated property finance offices comprising a national network of 150 Mortgage & Finance Association of Australia (MFAA) certified finance managers. They provide professional, knowledgeable and unbiased advice on every aspect of residential and commercial property finance. Their sole objective is to deliver the best finance package available, whether it is to upgrade, renovate or refinance a current property, build a new one or buy for investment.

In addition, LJ Hooker has specialists in conveyancing, settlements, strata management and land sales and development.