Digital Wayfinding – GOTAFE Education wayfinding
Helping students find their way

SOLUTION
Digitial Wayfinding
LOCATION
Shepparton, Wangaratta, and Seymour VIC, AUSTRALIA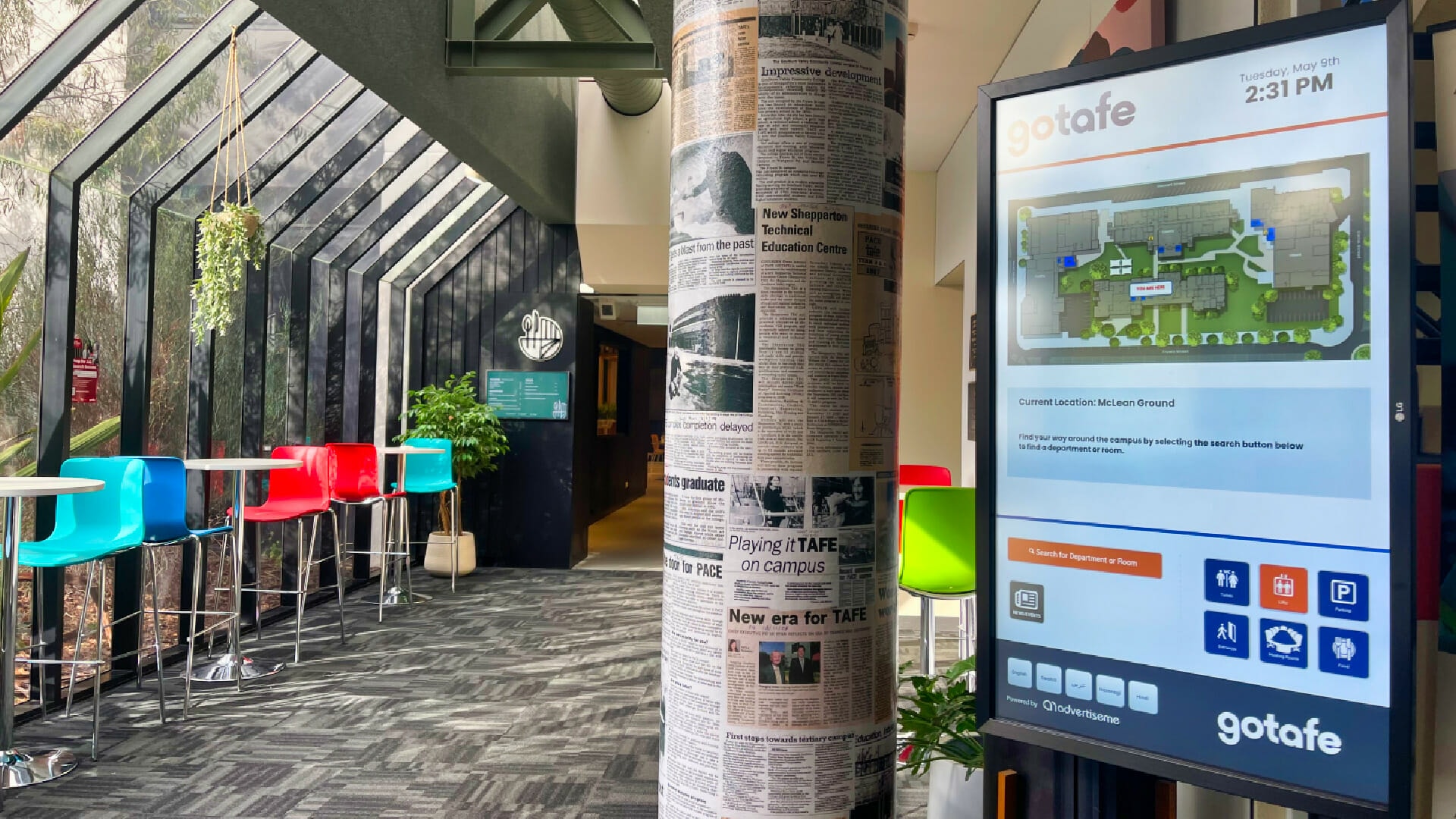 Digital Wayfinding Solution
Advertise Me was engaged by GOTAFE, a leading vocational education and training institute, to implement an innovative digital wayfinding solution across three of their main campuses. The objective was to enhance the campus experience for visitors, students, and staff by providing a seamless navigation system. Advertise Me was honoured to collaborate with GOTAFE and deliver a customised digital wayfinding solution tailored to their unique needs.
Leveraging our expertise in digital signage and wayfinding, we designed and implemented a cutting-edge digital wayfinding solution for GOTAFE's campuses in Shepparton, Wangaratta, and Seymour. Our solution incorporated the following key components:
Interactive Touchscreen Displays were strategically installed at different key locations across the campuses. These displays provided users with an intuitive and engaging interface to navigate the campus effortlessly. Users could search for specific locations, find departments, rooms, essential amenities, and receive route directions to their desired destinations.
Centralised Wayfinding Content Management System to ensure seamless content updates and management. We implemented a centralised cloud solution that enabled control and update wayfinding information across all campuses. This feature allowed for real-time updates, ensuring accurate and up-to-date information for users.
Integrated News and Events Display to display news and events information on the wayfinding screens. Users could stay informed about the latest happenings, important announcements, and upcoming events while navigating the campuses. This integration fostered a cohesive user experience and promoted engagement with campus activities.
Recognising the diverse user base at GOTAFE, our solution included multilingual support for a range of languages, including Swahili, Arabic, Hazaragi, and Hindi. This feature catered to the needs of international students and visitors who preferred information in their native languages, enhancing inclusivity and accessibility.
QR Code module so that students are able to take the map with them
The solution provided an enhanced user experience, streamlined campus navigation, and improved information dissemination. Our collaboration with GOTAFE exemplifies our commitment to delivering tailored and innovative solutions that meet the unique needs of education.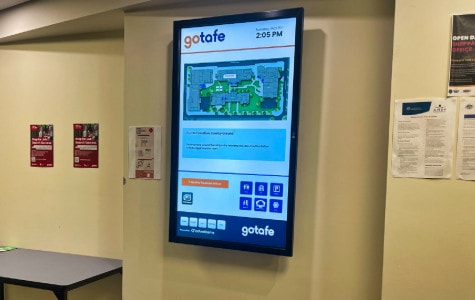 Need more information?
Contact Us